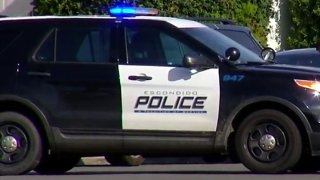 The Escondido Police Department has found a teenage boy who was reported missing by his family in Los Angeles.
The teenage boy left his home in the middle of the night Thursday and wasn't seen since, police said.
The boy, according to police, was seen getting into a red four door sedan at around 3 a.m. on Thursday.
The boy is diagnosed with high functioning autism and has no history of running away, according to police. His brother told NBC 7 that he had not taken his medication.
During the investigation, police learned that the boy had been in communication with a woman from Northern California through a chat forum. The boy convinced the woman that he was suffering abuse and was planning to run away. The woman agreed to assist in relocating him and worked to enroll him in a program in Northern California, police said.
The woman was identified and located by police. She was cooperative with authorities and assisted in locating the boy, police said.
The teenager was found in Los Angeles on Friday unharmed and is currently with law enforcement and in the process of being transported back to San Diego, EPD said.
Investigators are working to determine what possible criminal charges the woman may face. 
EPD is currently working with the family and Child Welfare Services to ensure the boy receives appropriate services.
Numerous federal and local law enforcement agencies assisted in this investigation, including the FBI and the US Marshals, EPD said.