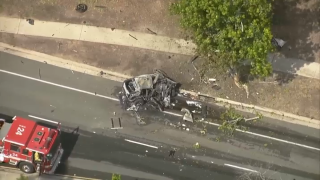 Update: Brothers Remember Torrey Pines High School Student Killed in Crash
A teenager was killed in a fiery crash Tuesday afternoon in Carmel Valley, according to the San Diego Fire-Rescue Department.
The driver, identified only as a 17-year-old male, crashed into a tree on Carmel Canyon Road near Del Mar Heights Road and his vehicle burst into flames, SDFD spokesperson Monica Muñoz said.
San Diego Police Department Officer John Buttle said the teen was in a Lexus SUV headed northbound on Carmel Canyon Road at around 3 p.m. when he struck the curb and then crashed into the tree.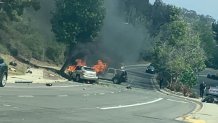 Firefighters confirmed the teen was dead at the scene, but it wasn't immediately clear whether or not there were passengers in the vehicle, Muñoz said. Buttle later confirmed there were no passengers.
Investigators don't know if the driver was impaired at the time of the crash.
The driver has not been identified. SDPD's Traffic Division is investigating.