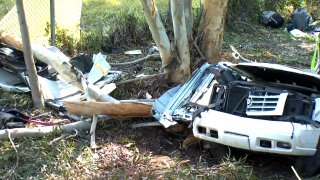 A La Mesa man was killed Saturday morning on Interstate 5 near San Diego's Mission Bay area after rolling his car down an embankment and hitting a tree, the California Highway Patrol said.
CHP Public Information Officer Salvador Castro said the deadly crash happened just after 9 a.m. along northbound I-5 near SeaWorld Drive as a man -- now identified by officials as Jacob Eugene Arnell -- drove alone in a white GMC Escalade.
Castro said witnesses told CHP officials Arnell was speeding and was trying to pass other motorists just before the crash.
"That caused him to veer off the roadway, overturning and colliding with a tree," Castro explained.
The Escalade rolled down an embankment off the freeway before plowing into a tree and coming to a halt. At the scene, pieces of the vehicle and debris were scattered about. A baby stroller, a backpack, and other items had flown out of Escalade and could be seen near the wreckage.
No other cars were involved in the crash and no one else was hurt, Castro confirmed.
The crash shut down traffic across two lanes of I-5 north of SeaWorld Drive for several hours while CHP officers gathered evidence and a tow truck worked to pull the wreckage out of the embankment.
The cause of the crash remains under investigation. Castro said officials have not yet determined if alcohol or drugs contributed to the crash; the San Diego County Medical Examiner's Office is conducting a toxicology report to determine this.
NBC 7 spoke with several friends of the victim over the weekend who said Arnell was a 2012 graduate of Rancho Bernardo High School. The school posted a tribute to him on Facebook after the crash.
"Yesterday we lost another Bronco," the post said. "Jacob Arnell was one of the toughest kids we've ever had, a true competitor and a great teammate. We'll miss you, Jake."
Arnell's fiancee created a GoFundMe page dubbed the Jacob Arnell Memorial Fund. According to the page, Arnell leaves behind his fiancee, his parents, a twin brother, an adopted son and a newborn daughter. As of Monday afternoon, the online fundraising page had collected nearly $8,000.