"You can make a decision on election day –" Darrell Issa began to say at a town hall in San Juan Capistrano Saturday morning. "Yes we will!" a constituent quickly shouted from the crowd, an implication by the woman that he might be voted out.
The remark was just one of many critical comments aimed at the North County congressman during the two-hour event. Issa answered dozens of questions that ranged from health care to the Russia investigation to Orange County congestion and climate change and even the Electoral College.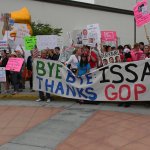 The congressman opened the town hall by saying he was "disappointed" in Trump pulling out of the Paris Climate Agreement. "The world's getting warmer. We know that," he said. Issa has joined the bipartisan Climate Change Solution Caucus that addresses the causes, impacts and policy options on climate change.
While constituents lauded his stance on climate change, health care was a much more combative subject. Issa said the Republican American Health Care Act bill would give people the choice that the Affordable Care Act, with mandated health insurance, did not.
When asked about the nonpartisan Congressional Budget Office's (CBO) projected 24 million people who would stand to lose coverage under the AHCA, Issa was quick to point out the CBO's new projected number was only 23 million.
"One if the false assumptions in CBO is many people who are getting the Affordable Care right now also have employers who could and in many cases do provide – but they simply go to the Affordable Care Act because [they think] it has a lower premium for them." He says it's a misconception that people will lose health care, rather, he asserts, many people will choose to forego coverage.
In regard to the AHCA's unpopularity among the American public Issa told NBC 7, "the vast majority of Americans didn't want the Affordable Care Act when it was crammed down their throats so it's not about popularity, unless it was about popularity then when they won by twisting arms and actually lying to members of Congress about what was actually in it or not in it."
He said the numbers in the CBO score " is very concerning because it doesn't tell any particular story that's meaningful."
Issa stated that if people would rather choose to not have insurance and have more money in their pocket he's sees it as "poor judgment" but , "it's a choice and I got booed every time I said it's a choice."
In relation to the $839 billion in cuts to Medicaid over 10 years also projected by the CBO, he told NBC 7 "People who are on Medicaid will still qualify for Medicaid," and that there would be a work requirement for people who are fit to work.
Issa clearly threaded the needle when it came to Trump. He was careful to not align himself too closely with the president, but he would also not fully rebuke him.
"The fact is I made a different decision when it came to the president than maybe you did," he told the booing audience, but quickly said, "I have to hold him accountable and his administration accountable."