What to Know
At least 57 people that included 34 sailors and 23 civilians were hospitalized with minor injuries, Naval Surface Forces said.
The fire was reported to have started in the lower cargo hold below some offices.
The cause of the stubborn blaze remains under investigtaion.
A Navy official said Monday a fire suppression system was inoperable when a blaze erupted aboard the USS Bonhomme Richard at Naval Base San Diego.
Rear Adm. Philip Sobeck said the Halon gas system had been turned off while the amphibious assault ship was undergoing maintenance work.
Dozens of injuries were reported after an explosion erupted during the roaring blaze that's been raving USS Bonhomme Richard for more than 24 hours, according to Naval Surface Forces.
Plumes of smoke arose from the military assault ship as firefighters battled the blaze on the 3400 block on Senn Street at about 8:30 a.m. on Sunday.
The fire was reported to have started in the lower cargo hold below some offices.
"It's a huge open area where you would store a lot of Marine equipment and everything else, that's where we believe it started," said Adm. Philip Sobeck, commander for the Expeditionary Strike Group 3. "I think they roughly have about 1 million gallons of fuel, well below where any heat source is."
The explosion may have been a backdraft, he said, which occurs during a fire when oxygen rapidly floods an oxygen-depleted environment
The vessel is an amphibious assault ship homeported in San Diego, according to Krishna Jackson of Naval Base San Diego.
The ship had undergone a regular maintenance cycle before the fire was reported, Jackson said. Crew members typically are aboard the ship on weekends, but the weekend crew usually has fewer members than on weekdays. The fleet has a crew size of about 1,000 members.
"For more than 24 hours, as you know, we had more than 400 brave sailors from commands all cross this water front and around San Diego have been fighting to save USS Bonhomme Richard," said Sobeck. "Along so, with Federal Fire in here in San Diego."
Federal firefighters requested assistance from the San Diego Fire Department at about 9 a.m. All SDFD personnel has been accounted for but at least 17 firefighters have been transported to area hospitals for evaluations, the department said. Authorities later announced all 17 SDFD firefighters were released from the hospital later in the day Sunday.
Naval Surface Forces said at least 57 people that included 34 sailors and 23 civilians were hospitalized with minor injuries that included heat exhaustion and smoke inhalation. As of 7 a.m., five sailors remained hospitalized in stable condition.
About 160 sailors were aboard the ship at the time of the fire and the entire crew was able to disembark; each sailor was later accounted for, Naval Surface Forces said.
As of mid-day Monday, Sobeck said crews have dropped more than 450 buckets of water so far. The fire continued to burn.
"The fire has spread throughout the ship In varying stages," Sobeck said. "There's burn damage all the way through the skin of the ship and we are assessing that as we go through each compartment."
Crews worked to suppress the fire all day Monday and were expected to remain through the night.
Officials said the forward mast collapsed and the superstructure in the upper decks sustained damage.
"It's a dance at the fire as it continues to go. You've got to assess against stability within the department you're going through and understand the heat source, again temperature raise ranging as high as 1,000 degrees," Sobeck said.
It is unclear what sparked the fire, but Sobeck told NBC 7 there were a lot of supplies in the lower region of the ship where the fire was believed to have ignited.
In-port ships have been contacted and directed to possibly assist with firefighting efforts, a Navy spokesperson said.
"Currently there are two firefighting teams fighting the fire aboard the ship," said Federal Fire San Diego Division Chief Rob Bondurant. "Federal Fire is rotating their crews aboard the ship with U.S. Navy firefighting crews from the waterfront to fight the fire in order to, find the seat of the fire and extinguish it. Also, Navy Region Southwest tugs are also continuously combating the fire from the bay."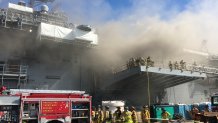 Due to the severe smoke, National City urged its residents to remain indoors in order to keep safe.
San Diego County released an air quality update due to the fire burning.
"In areas of heavy smoke, assume that air quality levels are unhealthy for sensitive groups to unhealthy for all individuals. In areas with minor smoke impacts, assume that air quality levels range from moderate to unhealthy for sensitive groups.
In areas where you smell smoke, it is advised that you limit physical activity. If possible, stay indoors to limit your exposure to fine particulate matter."
Adm. Mike Gilday, Chief of Naval Operations, said the Navy "suffered a terrible tragedy" because of the fire.
"We are grateful for the quick and immediate response of local, base, and shipboard firefighters aboard USS Bonhomme Richard," Adm. Gilday said. "Our thoughts and prayers are with our BHR Sailors, their families, and our emergency responders who continue to fight the fire. Godspeed."
The 23-year-old ship has the capacity to deploy and land helicopters, smaller boats and amphibious vehicles. Because of its age, a fire could be particularly destructive, especially if it reached the engine room and other tight spaces with machinery, said Lawrence B. Brennan, a professor of admiralty and international maritime law at Fordham University in New York.
An 1800-foot perimeter has been established around the Naval ship and the surrounding buildings. The San Diego Channel south of Coronado bridge is closed to all boating traffic. Two other docked ships, USS Fitzgerald and USS Russell, were moved to berths away from the fire, officials said.
"I feel absolutely hopeful, because we have sailor's doing the business of what they're trained and they're professionals beyond belief every single one of them," Sobeck told NBC 7. "They're not stopping."
To help the affected parties, you can donate to USO San Diego, Navy-Marine Corps Relief Society San Diego, or the American Red Cross San Diego and Imperial Counties Chapter.
Please refresh this page for updates on this story. Details may change as more information becomes available.