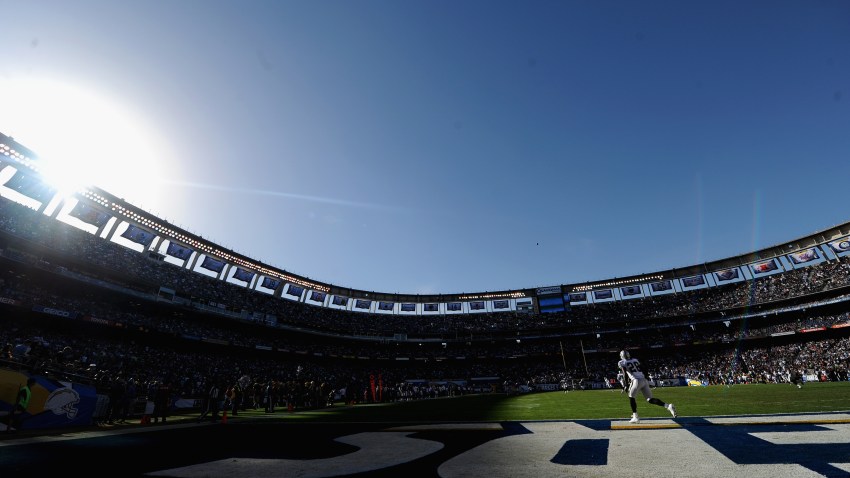 The San Diego County Board of Supervisors released their contract with a high-profile attorney involved with the Chargers stadium negotiations Tuesday.
The release followed a closed session meeting with county lawyers and comes after NBC 7 Investigates asked the county and city of San Diego for information about any contractors or attorneys working on the current new stadium negotiations with the Chargers. The city released details of its contracts earlier this month, but at the time the county refused.
According to the county contract, attorney Michael Zischke is set to receive $565 an hour in taxpayer dollars for his service.
Zischke is an expert in environmental law. He co-wrote a two-volume legal handbook on California's Environmental Quality Act and according to his biography, has represented clients in land-use and environmental cases at all levels of California courts. Zischke is a partner in the Cox Castle Nicholson law firm in San Francisco.
Environmental issues – and possible legal challenges to any stadium proposal based on those issues – have become a huge factor in both the negotiations and the approval and construction of a stadium, if the Chargers, the city and the county do eventually strike a deal.
The county contract also details that two associate attorneys will be paid at a rate of $410 an hour. According to the contract, their travel expenses, including flights and hotel accommodations will be reimbursed but meals and drinks will not be.
County spokesman Michael Workman told NBC 7 Investigates, so far, the county has not been billed by the firm.
Newly released documents from the City of San Diego show another firm, Barrett Sports Group, LLC will complete a financial model review for a potential stadium for $75,000 plus direct cost of travel expenses. One contract for $50,000 will be completed by BSG to look at revenue streams for selling things like luxury suites, club seats and naming rights. A second contract, worth $25,000, will analyze stadium operating expenses and revenues.
Click here and here to see the complete contracts.
After the closed session meeting, County Supervisor Dianne Jacob spoke to NBC 7 Investigates.
"All of the costs will be within the agreement with the City of San Diego, it is a shared cost," she said. "When we are spending taxpayer money, particularly on an issue like this, the public has a right to know. There was a legality in terms of releasing these documents and that's why we had to wait until today to release the documents. But it was the right thing to do."
The hourly rate for Zischke is higher than what is outlined in the City's contract for negotiation fees.
The city's 47-page agreement with Nixon Peabody reveals taxpayers will initially pay the firm up to $150,000 for legal advice and out-of-pocket expenses.
The firm's partners and managing director will be paid $500 an hour for their legal advice, according to the agreement. Associate attorneys are paid $400 per hour, and paralegals get $195 an hour.
That agreement specifies the law firm will be reimbursed for "actual, necessary and reasonable out-of-pocket expense" including air travel at economy or coach class fare and hotel accommodations in San Diego "not to exceed the rate established by the U.S. Government General Services Administration for San Diego."
The lawyers will not be paid for meals or drinks while working in San Diego, and Nixon Peabody cannot charge taxpayers for computer-assisted legal research, clerical or secretarial salaries, word processing fees or office supplies.
"Attorneys are expensive," Jacob said. "This individual (Zischke) is the best in the business. If you are going to go up against other attorneys and experts in the field, on behalf of the public, on behalf of taxpayers, we want to have the best that money can buy and we have the best."
NBC 7 Investigates is working for you. If you have more information about this or other story tips, contact us: (619) 578-0393, NBC7Investigates@nbcuni.com. To receive the latest NBC 7 Investigates stories subscribe to our newsletter.