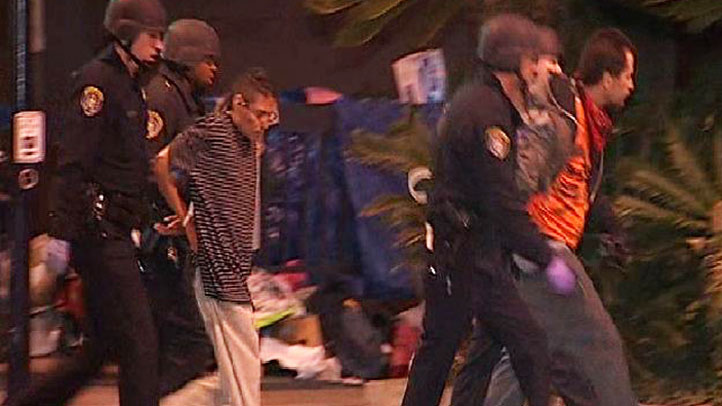 Ten people were in custody Wednesday after law enforcement officers moved in overnight and cleared out Occupy San Diego protesters camped out near the Civic Center Plaza.
Dozens of police officers and deputies dressed in riot gear lined up around 3 a.m. Wednesday. Watch Raw Video
When it became known officers had arrived and were walking in formation toward the plaza, the group camped out on the east side of the Civic Center (an area once labeled a "free speech zone" by police) started screaming and gathering their things. Someone in a nearby car continuously honked a horn to wake up those sleeping. Watch More Raw Video
The arrests were not in response to other recent raids in cities like Portland and New York but rather due to an increase in violence and unsanitary conditions here in San Diego police said.
SDPD Assistant Chief Boyd Long said there were reports of drug paraphernalia, knives, makeshift billy club as well as rats at the site in the hours before the raid. Watch SDPD Statement
Long also listed a number of arrests made at Occupy SD since October 14 that include a felony warrant suspect staying in the group, a parolee-at-large and also a pedestrian robbery suspect.
On Saturday, an officer was bitten during the arrest of a protester who now faces drug charges and members of the group turned over two live shotgun rounds and two live handgun rounds to police last weekend police said.
"It's clearly an unsafe environment," he said.
During the overnight raid, law enforcement officers wore helmets with shields, carried batons and zip ties shaped into handcuffs while others blocked traffic on nearby streets.
One officer used a megaphone to tell the crowd to disperse or they would be subject to arrest.
A news videographer, who police told to stay back from the scene captured eight arrests on camera.
On October 28, police arrested 51 protesters while clearing tents from the area. Since then, the group has returned bringing in tables, chairs, sleeping bags and pillows.
Officials said the group had been warned several times, possibly every day, to remove the property or face arrest for violating the illegal lodging law by staying in the area without permission.
SDPD Assistant Chief David Ramirez, who said the department has been moving officers from other parts of the city to cover the occupation of the plaza, said it's a balancing act - trying to protect the rights of the protesters while making sure they are not breaking the law.
"We will allow people to come back into the area to protest peacefully and lawfully," said Ramirez.
Ultimately, Ramirez said, the group just cannot sleep on the property. He vowed that the department would "do a better job" of keeping protesters from camping out at the site.
Police believe the majority the 60 -70 people on the site at 2 a.m. are part of San Diego's homeless population.
"That's probably a huge contributor to the fact that we've seen an increase, most recently a spike, in violence," Long said.
However, Long said that most of those arrested Wednesday were so-called "anarchists" and not members of the city's homeless. Watch More SDPD Statement
Keep up to date on breaking news: Follow us on Twitter @nbcsandiego, fan us on Facebook, sign up for our breaking news e-mail alerts or text SDBREAKING to 622339 to receive text messages for local breaking news. (For more info, text HELP. To end, text STOP. Message and data rates may apply.)