A school crossing guard, struck by a car Thursday morning, was hospitalized after undergoing surgery for a head injury, his family told Telemundo 20.
The driver of the vehicle told police she was driving through the intersection near Del Dios Academy of Arts and Sciences in Escondido at 7:30 a.m. when she hit the school's crossing guard. Del Dio School is located on W 9th Avenue.
Antonio Guerra is in his 80s, according to his daughter, and has been working as a crossing guard for years at the school.
Police determined the sun may have prevented the driver from seeing the crossing guard step out into the street.
Guerra underwent surgery to relieve swelling in the brain and is under sedation as of Friday afternoon, his daughter said.
While Guerra recovers in the hospital, students from the school took time to wish him well and thank him for his work.
The children put together a large, multi-page card full of individual well wishes and messages of appreciation.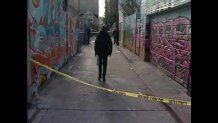 The family wants to thank the community and the school for an outpouring of support.
The Escondido Union School District released the following statement Friday:
"The safety of our students, families, teachers, and employees is a priority of the Escondido Union School District. We owe a debt of gratitude to the crossing guard, an employee of Escondido Education COMPACT, who was on duty in the front of Del Dios Academy of Arts and Sciences when he was involved in an accident. Our school principal and staff responded according to our safety protocols by immediately calling 911 and assisting the crossing guard until the paramedics arrived. We are thankful for his service and wish him a speedy recovery."
-Dr. Luis Ibarra, Superintendent of the Escondido Union School District.