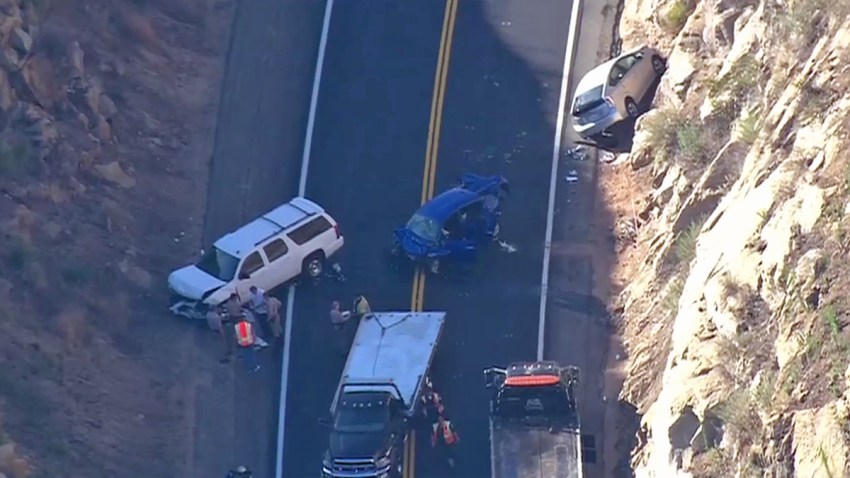 A DUI suspect involved in a hit-and-run crash that took the life of a 62-year-old Escondido man has been convicted before for driving under the influence, and is also facing charges for a separate hit-and-run incident, prosecutors revealed in court Friday.
Garrett Gelrud, 34, was arraigned in a Vista courtroom for the deadly crash that killed Juan Corza Gonzalez, 62. On top of the DUI and hit-and-run charges, Deputy District Attorney Aimee McLeod asked a judge for a second-degree murder charge against Gelrud, which could have him facing 15 years to life in prison.
McLeod said Gelrud is also facing charges in another July 1 incident in which he's also accused of hit-and-run. He was arrested on July 30 in connection with this case and had bailed out of jail just days before the deadly collision with Gonzalez, the Deputy DA said.
At least 20 of Gonzalez's family members gathered at the courthouse Friday to face the DUI suspect. When one of Gonzalez's daughters heard Gelrud is accused in a similar crash, she broke down in sobs in court.
"Many members of the victim's family were present in court today," said McLeod. "Understandably, they were horrified and devastated by this absolute, complete, preventable tragedy."

Gonzalez was killed in a crash on Old Highway 395 near Bonsall just before 5:30 a.m. Wednesday when Gelrud – driving his Chevy Suburban – drifted across the double yellow lines as he approached a curve on the rural stretch of road just north of Lilac Road.

[[320991341, C]]
Gelrud slammed his suburban head-on into Gonzalez's Nissan Versa, the impact killing Gonzalez at the scene, California Highway Patrol (CHP) officials confirmed.
"My client is devastated by this arrest. He is devastated by the charges. He of course extends his sympathy out to any of the individuals hurt and injured in this particular case," said Gelrud's defense attorney Herbert Weston.
An Escondido couple witnessed the wreck as they drove on Old Highway 395, but they could not avoid striking the back of Gonzalez's Nissan. The couple sustained minor injuries.

Gelrud – suspected of driving under the influence of alcohol – fled the scene of the deadly crash on foot. Just after 6 a.m., CHP officials received calls from citizens reporting Gelrud walking barefoot down the road.

Minutes later, Gelrud was detained by officials at a nearby gas station. He was arrested and charged with suspicion of felony DUI, vehicular manslaughter and felony hit-and-run, officials said Wednesday.


NBC 7 spoke with Gonzalez's heartbroken family Thursday, who described him as a hard working family man who prided himself on doing things by the book.

He had worked as a rancher at a North County ranch since 1978 and was passionate about his job, his family said. Gonzalez leaves behind four adult children – two daughters and two sons – and 11 grandchildren
"Any case in which there's a loss of life is tragic, where there's someone who is deceased based on someone's actions, our office takes a very serious look at what is possible to charge, what we can prove in court beyond a reasonable doubt, and evaluate it very carefully before we make an issuing decision," McLeod told NBC 7, referring to her request for the murder in the second-degree charge.
Gelrud's court proceedings will continue later this month, with an appearance on Aug. 17 and another on Aug. 19. As of Saturday, he's facing four felony charges and two misdemeanor counts.