A Skyline teenager who had just turned 18 and graduated high school was shot and killed Tuesday on the street where he lived, family members told NBC 7.
Greggory Davis, 18, was killed and another man was injured in a shooting at 5:40 p.m. on 61st and Alderley streets, the San Diego Police Department (SDPD) confirmed.
He was standing with a group of people near the intersection when they were approached by two men on foot. The suspects opened fire on the group using handguns and then ran eastbound on Alderley, police said.
Davis was shot in the upper body. The second victim, a 25-year old San Diego man, was shot once in the leg.
People in the area took the men to Paradise Valley Hospital before police arrived. Both victims were then transported to another hospital because Paradise Valley does not have a trauma unit.
Davis lives on Alderley Street, according to police. The condition of the second victim is unknown.
Relatives of Davis say the young man had just celebrated his birthday on July 12.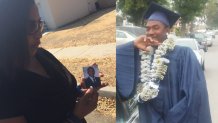 He was finishing summer school courses after having graduated from Morse High School, according to a spokesperson for San Diego Unified School District.
"I just want to be clear that he was not one student that had a lot of discipline issues. He was not a student that hung out with a lot of kids that were mischievous or anything like that," said Morse HS Principal Harry Shelton.
Shelton said Greg was an outgoing, personable and soft-spoken young man.
His grandmother said Davis was planning on getting his drivers license.
"I can't believe it. I'm still in shock. It hasn't hit me yet and it hasn't hit his mother yet," said Jacalyn Marshall. "When it's the bad kids, you can kinda understand but Greg was a good kid. Greg stayed to himself."
Neighbors told NBC 7 San Diego that Greg was considering joining the U.S. Army.
Anyone with information related to this incident is encouraged to call the San Diego Police Department's Homicide Unit or Crime Stoppers at 888-580-8477.