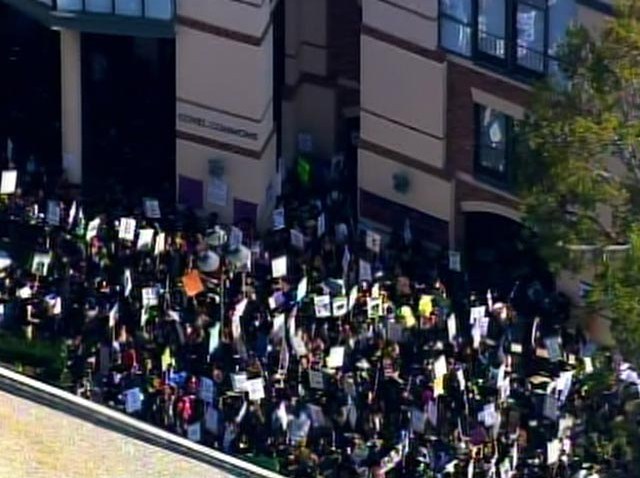 University of California students will get a much larger tuition bill next year -- and they're furious.
The Board of Regents on Thursday approved a 32 percent increase in undergraduate student fees, despite protests by hundreds of demonstrators outside the regents' meeting at UCLA.
By next fall, undergraduate fees will be boosted by $2,500, sending the average annual education cost at a UC campus to more than $10,000. That's triple the amount from a decade ago.
Regents say they had to raise fees because the cash-strapped state government can't meet the university's funding needs.
The decision came as hundreds of students chanted and marched outside the meeting hall to protest the measure. Some students also took over another UCLA building and chained the doors shut.
Police in riot gear kept an eye on the protesters.
UCSD students spent the night preparing to join the angry crowd in Los Angeles. Nearly 60 students got on a charter bus Wednesday night, a second charter bus left just before sunrise.
"I want you guys to do your best out there and make sure that they know that we don't want to be paying any more money for an education that we have a right to," student Steven Anderson told the crowd during a pep-talk he gave student protesters on the bus before it left.
Protesters from several UC campuses stayed overnight at a campus tent city to take part in a second day of demonstrations.
30 to 50 students staged a sit-in at an ethnic studies building and chained shut the doors, UCLA spokesman Phil Hampton said. They were peaceful and were allowed to stay.
Fourteen people were arrested Wednesday for failure to disperse or disturbing the peace after a UC Board of Regents committee approved the proposal to increase costs for students at University of California campuses.
The vote came amid a chaotic hearing -- students were singing and shouting. A campus police spokeswoman says outside protestors tossed sticks, food and rags soaked in vinegar at police. Several police and two students suffered minor injuries.
The first of the increases will take place in January -- the rest will take place the next academic year.
"It's very frustrating to see so many talented students maybe having to make the decision not to come back next quarter or maybe returning sometime later because they can't afford to pay for college right now," Anderson said.