The slowly improving economy could boost travel over the Thanksgiving holiday to levels not seen in nine years.
AAA forecasts that 48.7 million Americans will travel, the busiest Thanksgiving period on U.S. roads and skies since 2007, the year before the global financial crisis plunged the U.S. economy into a deep recession.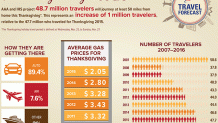 The auto club AAA said Tuesday that it expects 1 million more Americans to venture at least 50 miles from home, a 1.9 percent increase over last year.
The forecast was assembled at research firm IHS, which said it considered jobs, household net worth, the stock market, prices for gasoline and airline tickets, and other factors.
The researchers did their number crunching in mid-October, about three weeks before the surprising outcome in the presidential election.
The AAA forecast predicts that from Wednesday, Nov. 23, through Sunday, Nov. 27, about 43.5 million Americans will take long car trips, 1.9 percent more than last year. AAA expects 3.7 million will travel by air, a 1.6 percent increase. Bus and train trips will grow less than 1 percent, the auto group said.
An airline-industry trade group is a bit more bullish. Airlines for America predicts that air travel will rise 2.5 percent over last year's holiday, although the group considers Thanksgiving travel spanning a 12-day period that begins Nov. 18.
Copyright AP - Associated Press