Thank You London!
Monday, Aug. 13, 2012
One thing I love about London, and the UK, is that everyone is so polite.
Even if you are in the wrong, or bump into someone, they say "sorry." And for anything you do right, or just do -- they say "thank you."
In the spirit of that loveliness, I write a thank you note to London, its Olympic Committee, and Team USA , and others for two weeks that have left me with a wonderful impression and an iPhoto album to remember and share.
Thank you to the people of London, the London Olympic Committee and Planners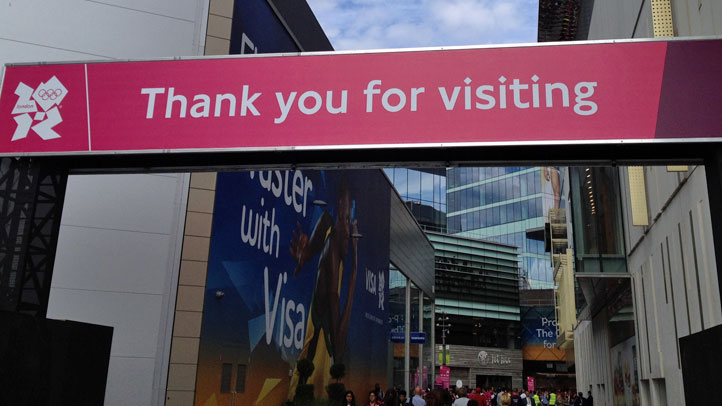 …for welcoming visitors to your city with open arms, humor and hospitality. From the international flags to lovely language and
…for the vivid pink signs guiding us to the many venues, making it easy to navigate through the impressive Underground system, the streets and trains throughout the region. Every mode of transport was clean, efficient and tourist-friendly.
… for the 70,000 volunteers or Games-makers from all over the UK and even the world, who gladly answered questions or helped us find our way when even the signs weren't enough. Not one cross word, not one sense of "the sign's right in front of you… can't you see it…" Not one time did someone make me feel silly for asking a question. In fact, they made us feel good, even offering to help when we just looked lost!
…for the security around the city -- Police and military -- that made us feel safe, yet not threatened.
…for the designers of the Olympic Park and other venues who didn't just put up fences and bleachers seats, but created a special environment whether new or old. The Park and the Aquatic Center, where I visited, were magnificent.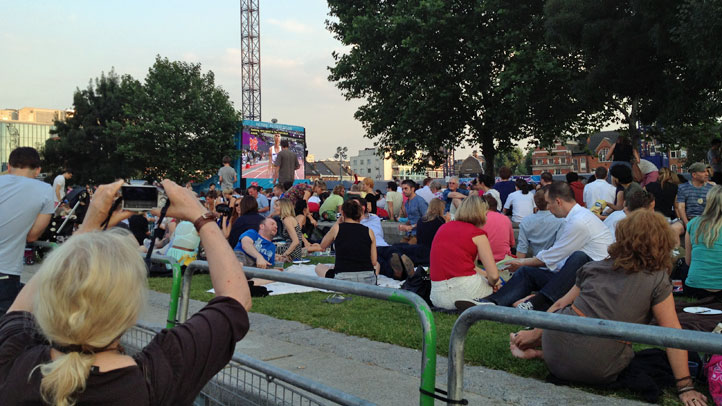 …for the forethought to make the event "inclusive" so everyone felt a part of this experience. That was evident especially with the many free venues with tents, giant TVs and picnic and party areas that just required the inclination to stop, watch and participate.
…to the BBC for it's stellar, thorough, beautifully shot and produced live and documentary programming that truly took viewers into the heart, soul and emotion of the Olympic games, the Olympic spirit. Being and American watching only UK coverage, I felt behind in some of the US story lines, but nonetheless, the depth and expanse of coverage was outstanding.
…for realizing your potential and sharing your uniquely British ways and history. As more than one BBC commentator or local has commented, perhaps this experience has shown not only the world, but Londoners, what is possible -- not only in sport, but in the city. I wish you well in the post Olympics chapter, and I'll be back. Thank you to the 10,500 Athletes and countless International visitors and locals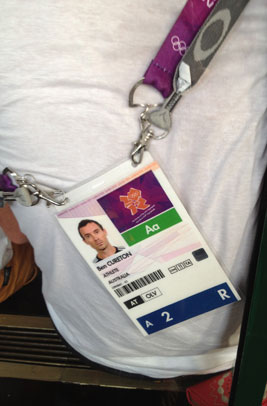 … for being open to saying hello, striking up random conversations based on an accent, name-tag or country printed on your clothes; taking pictures, and doing interviews. The sense of common purpose to celebrate sports, compete, and encourage striving for excellence and greatness was appreciated.
… for your good sportsmanship either on the playing field or in the stands. With few exceptions, watching both the intense competition and the grace in victory and defeat were refreshing demonstrations of the right way. Thank you to Team USA
…for your strength, good example and humility. Every conversation or interview with athletes, coaches or media contacts was professional, reasonable and genuine. It shows how the love of the game and striving to be the best is not motivated by money, but by a sense of purpose and meaning.
…for making me want to buy official USA Olympics gear not just to show I was here, but to support a country I love and the whole team that's made us proud. That's more than a "brand"… it is a way to bond. Thank you to San Diego and Social Media Friends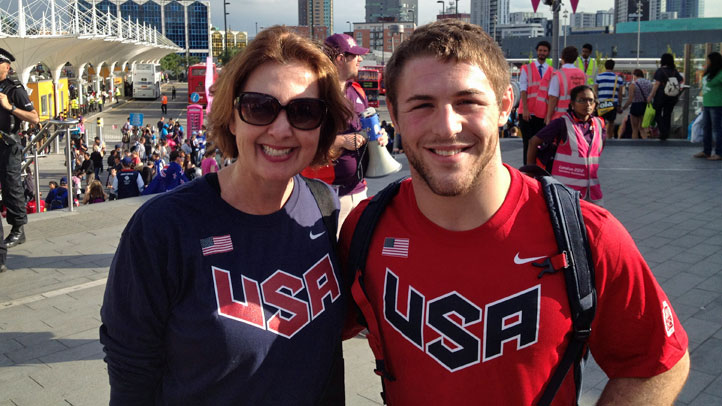 … for reading, commenting and participating in the London Olympics conversation. I ventured here when I thought my friend would be competing. Injuries prevented that, but I continued with my plan not knowing what would unfold.
With no credentials for the main Olympic venues because it was too late, I enjoyed telling stories in and around the games for NBC San Diego and my own site.
It won't be a blur, with so much documented. I have a new found appreciation of the Games and Olympic athletes.
How long and hard they work for mostly the sheer reward of the effort medal or not.
My mantra in the world of Sports evolved to "Perpetuate the Positive. BE Part of the Good Sports Story."
London 2012 is the epitome not only of what is good, but how we all can BE part of it, in so many ways.
For more visit www.JaneMitchellOneOnOne.com
---
Inspiring a Generation -- Out of the Mouths of Babes
Sunday, Aug. 12, 2012
For two weeks in London, two themes have been articulated in signs, social media and in the ceremonies surrounding the Olympics and London 2012.
The first: Faster. Higher. Stronger. Whether watching on television at home, in a pub, on-line, or in person, the Olympics have been jaw-dropping, heart-stopping, breathtaking and over the-top magnificent.
The athletes' performances provided every scenario -- triumph, disappointment, expectation and beyond. London's venues and hospitality, and BBC's brilliant coverage here, created a beautiful frame for presenting those stories.
The second theme: Inspire a Generation.
The phrase is not just a trio of words, or call to action, but a summary, a hope, an intention of what the games could do.
No matter what generation you are from, you can't help but be inspired.
Here in my experience, that feeling has permeated in every corner, every tube ride, every conversation, often with total strangers.
But would the Olympics make the impact on young people?
One afternoon walking back from interviewing Team USA's super star basketball team, I noticed a woman on the corner with her young twin boys.
Catching her eye, and commenting how she had her hands full, I wondered if indeed the games had made an impact on them.
Tanya Murphy said, "This is the first time we've watched the Olympics and the first thing they said they wanted to do was Athletics. They love it."
So the games really are inspiring a generation?
"Of course, yeah. Definitely."
Her plan now that her 6-year-olds have the sports bug?
"Now what we have to do is Google, of course, and find any place that might take them on. Athletes camp. Whatever they can.Try to get them really interested in it, really in to it."
"Why do you think sports would be good for them?"
"They love jumping around, they're so athletic anyway!"
A few days later, walking by a small neighborhood playground in Stratford, I see two children kicking around a soccer ball.
Remmell is 5 years old.
He likes to play soccer (they call it football) because "it's fun."
His sister Hazel, 4, prefers to play with toys and the swing, and thinks the gymnastics on the Olympics are "good."
Remmell was quite confident, knowing exactly what Olympics he had been watching. "Swimming, some basketball and some boat racing."
I asked, "When you're watching those games, what do you like about that?"
"I want to play it."
"You do?"
"When I get older."
"Why?"
"Because it's fun!"
And when he said he thought he could be in the Olympics some day, I asked, "What will it take to get to the Olympics?"
"I don't know. Tickets."
"Tickets? How about working hard," I suggest.
And in a sweet, soft, yet confident voice, he declares, "I will work hard, trying my best to do it."
Considering that's what every Olympian has had to do, that's a great start. Inspire a Generation? is off to a good start, too.
For more visit www.JaneMitchellOneOnOne.com
---
Dream Team's Kobe Bryant Says "Thank You" to San Diego
Tuesday, August 7
While I've been to a half dozen NBA games in my life, I am not particularly an NBA fan, and certainly have not covered professional basketball. My focus has been pro baseball and football – and of course, 15 years ago, those were both new to me, too.
So here I am at the Olympics in London with the opportunity to attend a practice session and interview players on Team USA's Men's Basketball Team, often called the 2012 Dream Team (The iconic Dream Team emerged in the 1992 Olympics.)
I was familiar with a few current members: LeBron James and Kobe Bryant. Their names and headlines transcend sports. I was aware three players were from the Oklahoma City Thunder, because my friend and news anchor, Tammy Payne, at Channel 9 there, told me what a great point of pride that has been for Oklahoma.
With that limited knowledge, I dove into the Team USA website for information I needed for a quick study. I learned Kobe Bryant's father "Jelly Bean" Bryant played for the San Diego Clippers. Noted. A local connection.
I don't generally get nervous about meeting players considering the more than 125 I've profiled in my career so far. But I admit my heart was pounding a little bit when a contingent of more than 50 reporters and camera crews descended onto the basketball court where the players were scattered about on the sidelines, and up for grabs for about 20 minutes. A group suddenly swarmed around someone in the middle. So I looked to the left, and saw LeBron James sitting on a chair alone, chatting with a trainer-type person. I asked if he was ready for an interview and said he's like to put his socks and shoes on first. I waited, then he said, OK.
I asked the difference between this Olympics and the one in 2008, and he replied in a low-key voice, "Not much of a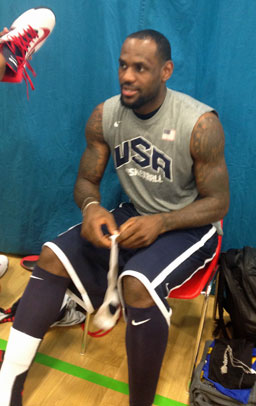 difference, it's still an honor to be hear and to represent my country. The Olympics is great. The only difference is who's hosting it… all the athletes here competing for gold, compete for medals, trying to do whatever it takes to make the country proud." After a follow-up, I thanked him, and he cordially said, "thank you."
Well, that was easy. Then, I saw that swarm still around that player. I peaked over the crowd to see it was Kobe Bryant sitting in a chair. Uncertain how long he'd hold court, I squatted down and wormed my way onto a little opening right in front of him. It was very uncomfortable, on my knees holding a little camera and microphone, but he made it worth it.
When there was a break in the Q and A, I jumped in politely, and he looked right at me as our interview went like this:
Jane: "Kobe, being at the Olympics this time, compared to the last time; what's the difference?"
Kobe: "I don't know if there's really a difference. It's the same emotions, it's the same type of energy and the difference really is just the cities. But in terms of going to events and seeing athletes being great at what they do, that's the same."
Jane: "I'm from San Diego and I understand your dad played for the San Diego Clippers years ago." (Kobe reacted with a big smile! ) "What would want to say to folks from San Diego who have watched your career, and what's your connection to our fair city?"
Kobe: "Thank you so much. Thank you so much for the support. I went to school in La Jolla when I was a little baby. So, San Diego is right in my back yard from Orange County."
Jane: "I covered the Padres for 15 years, we don't have an NBA team…but,"
Kobe: "You got the Lakers!"
Jane: "That's right, we're watching you… and finally, what's the difference of the fans here playing an Olympic game, versus a professional game. There seems to be a difference as a spectator, how is it as a player?"
Kobe: "It's much more passionate, because the country obviously means so much more. I mean, a brand and a company can mean a lot to a person, but when you're talking about your country, it has a certain level of significance that goes beyond that of a Lakers brand."
Jane: "Thanks Kobe."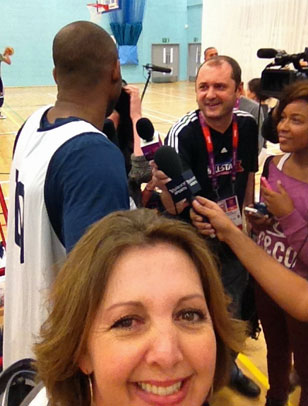 For someone who is as high profile as they come, Kobe Bryant was thoughtful in is answers, his sense of humor and his demeanor to the international reporters surrounding him. It wasn't the same as being in the throws of a post game interview in LA or on the road; this is the Olympics. In just those few minutes he showed class, consideration and professionalism for those who are taking part in not just reporting about the Dream Team, but telling the London 2012 story.
Plus, his "Thank you to San Diego," comment is a nice thing to write home about.
To hear interviews with the Dream Team and more, go to www.JaneMitchellOneOnOne.com
---
Behind the Scenes at the Team USA's Training Site - East London
Tuesday, August 7
The Olympic experience is massive. Bringing countries from all over the world to one region -- the logistics, the planning, communication and security needs, and the detail required -- is mind-boggling. When in comes down to it, though, the athletes need to be in their best physical, emotional and psychological state possible on the day they compete. That often means training right up until the brink of competition.
For Team USA, setting them up for success includes providing an environment for their consistent routine. Many sports have areas they can train in and outside London, including the Olympic venues. I've learned some athletes and their coaches came to London for the Opening Ceremony then left to escape the hubbub and distractions to concentrate on the work and the goal, returning in time for their competitions.
Emily Cox with the USOC and the Olympic Training Center in Chula Vista, informed me she'd be based at the U.S. Training Center and I naturally wanted to see what it was all about. We picked the day Taekwondo was practicing, and later, when the Men's Basketball team was available to media. Those stories aside, the site itself is part of the non-glamorous, but very important, aspect of the games.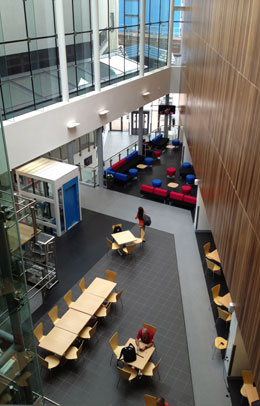 USOC did a similar partnership for the 2008 Olympics with Beijing Normal University. The USOC researched universities with good sports facilities near the Olympic Park and Emily tells me this worked out well, location, facility and timing-wise; the school's fall semester doesn't start until after the Games are over.
Through the USOC's 24 Hour Fitness sponsorship, 24 Hour Fitness provided all of the equipment in the cardio and weight rooms. All of that equipment will stay behind at the University of East London for students and the public to use.
While teams train around the country, during the 2012 Games, seven sports are headquartered at the Docklands campus on the water.
The sports are Basketball, Taekwondo, Fencing, Badminton, Wrestling, Weightlifting and Trampoline. Volleyball, Boxing, and Water Polo.
A few others mostly used the weight room. The U.S. athletes generally stay in the Village, but are shuttled (or can take public transportation) to the training center for their individual or team practices or meetings.
The school has put out many Welcome Team USA signs and rearranged some of the furniture to accommodate USOC staff, coaches, sports med practitioners, nutritionists, psychologists, coaches, alternates/replacement athletes and non-team coaches and trainers who would not be allowed in the Olympic Village.
The USOC Media Relations team has authority to accredit media for the site.
The campus (one of three locations) built in 1999, has some unusual architecture. The dorms are circular with small windows designed, one Olympic resident was told, to be like a cruise ship room.
But no doubt, there's a "wow" factor walking into the new state-of-the-art $40 million, high
performance facility called the "SportsDock." (It's open to students and the public except during the Olympics.)
It has high windows, slick metal and clean white and red decor, with wide-open stairs to various rooms and work out spaces. The basketball court is just off the lobby.
In the "nutrition replacement stands," signs around the healthy selections say "Reserved for Athletes." Options include sponsored food items such as Chobani yogurt and PR*bars, water, fruit and snacks (nuts, dried fruit). There also is a full-service dining hall provided to the athletes. A few Olympic Training Center chefs have come over from the States so athletes can have the same type of food prepared exactly to their nutritional needs.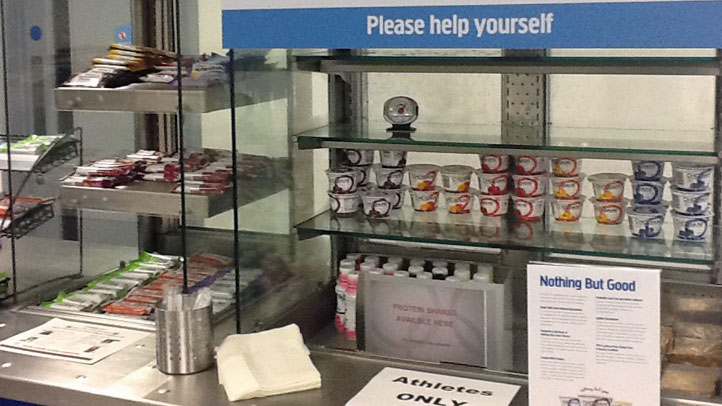 The environment is quiet and serious, and the athletes I saw were in their USA work out clothes and in "work" mode. After all, they are here for a purpose, and have trained long and hard for their moment to compete and excel. From what I could gather, while we watch them in person or on television, Team USA athletes step into that spotlight with care and consideration by the behind the scenes unsung heroes who are happy to support the Olympic Dreams.
For more visit www.JaneMitchellOneOnOne.com
---
Postcards from London: Seven Splendid Days So Far.
Saturday, August 4
It's Saturday morning in the U.K. and the sun is peaking through the storm clouds, as London prepares for Olympics Day 8 what London 2012 is calling "Super Saturday." So much will be happening outside in the Stadium, Wimbledon, and other outdoors venues, here's hoping Mother Nature puts a pause on the wet weather.
Having attended two events (Men's and Women's Swimming and Women's Volleyball) and mostly in and around the city, the week as been spectacular, exciting, and what the British like to say, "quite lovely."
In addition to the fantastic athlete performances thousands are seeing in person, and the world is watching on television, the atmosphere, ambiance and activity here are truly something to write home about.
Here are some "postcards" from London.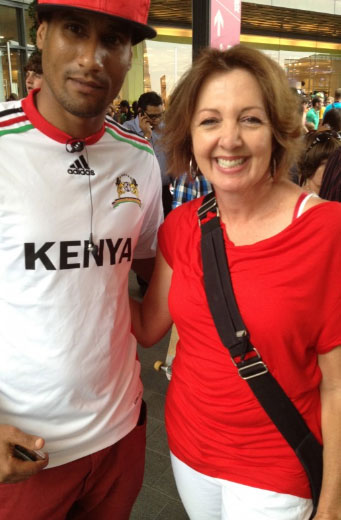 Pre-day 1: Friday Afternoon Olympic Frenzy July 27, 2012
My first taste of London 2012 is roaming the Stratford Westfield Mall – the main thoroughfare for visitors, and the athletes, too! I got bold fast, and started taking pictures with players from all over the world like this guy from Kenya! Plenty of host country pride, here. A woman all dressed up for a reception, showed me her 1-hour specialized manicure with the British flag painted on every finger! Of course, the fireworks to top off the Opening Ceremonies were fun to watch from across the street. Behind me in the picture, the big "orbit" that looks sort of like a red flame, inside the Olympic Park.
Day 1: Saturday July 28, 2012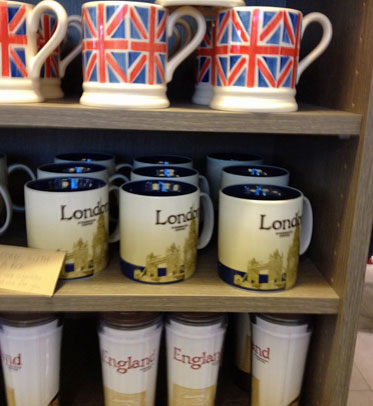 A run turned into a non-stop meet and greet back at the mall. From the guys swapping pins to hearing all the different languages -- so many sights and sounds. Oh, and smells (yum!) with Starbucks a plenty. Apparently, England is the only country where 2 shots are standard for a Tall Latte! London has its own set of mugs, too.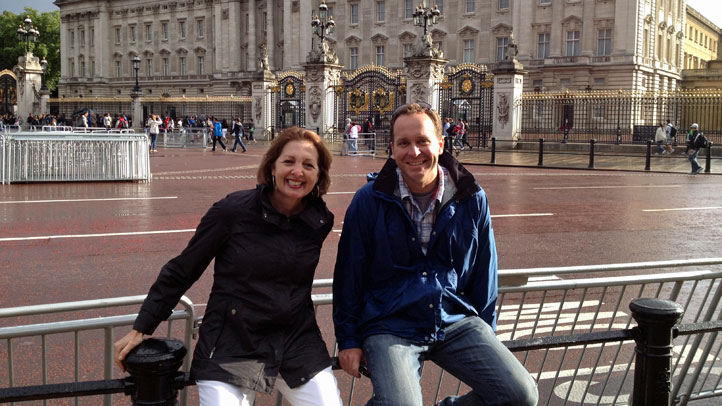 Day 2: Sunday July 29, 2012
A little rain, a lot of beauty. Spent the day with Steven Luke from NBC San Diego walking for probably 6 miles soaking in iconic London scenes such as Buckingham Palace. And along a quiet street, we met a boxing icon and former Olympian Evander Holyfield. Of course we took our picture with him! So nice! Topped off the day with fish and chips at a pub in the quiet Notting Hill. Perfectly lovely.
Day 3: Monday July 30, 2012
Just seeing a little guy Sam from outside the city wearing a London policeman's tall hat was a great way to start Monday. But it ended with a splash... when I scored a ticket (half price!) to swimming in the magnificent new Aquatic Center in Olympic Park. Wow. Seeing Team USA and the others from my seat in section 401 -- I'll never forget the feeling of how encouraging and enthusiastic the crowd was for all the competitors, regardless of their country.
Day 4: Tuesday July 31, 2012
I'll tell you more about this later, but a day at the US Training Center out in East London was a behind the scenes look at the work that goes into preparing up until the face-off. I met the whole USA Olympics Taekwondo team -- all 4 -- including medal winning siblings Steven and Diana Lopez. They begin competing in week 2.
Day 5: Wednesday August 1, 2012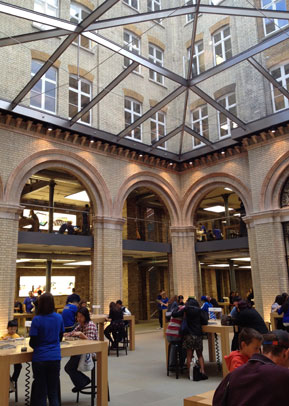 Women's Volleyball like I've never seen it before. The huge Earls Court arena was packed with involved fans and the take away is how everyone cheered for the Underdog team... especially when they (Algeria...) weren't doing so well against the dominant World Champion tall Russians. Sport can transcend borders.
Day 6: Thursday August 2, 2012
Whatever happened to old-fashioned paper postcards? Love em' but too slow. So, having fun and working to share the story doesn't happen without your tools. A day to figure out editing and the beautiful Apple Stores (right) where old meets new are a great place for a One to One or genius bar! Very mild weather makes for a nice walk in the city with international flags flying to welcome guests.
Day 7: Frid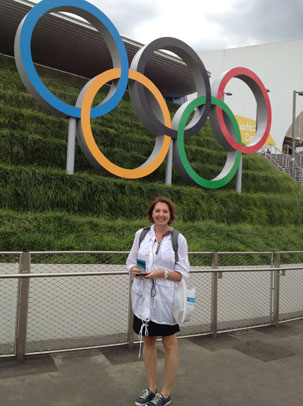 ay August 3, 2012
Athletes abound at Oxford Circus area and NikeTown (not even the official clothing sponsor... Adidas is!)
Just outside, stand on a corner for 5 minutes and athletes (usually those done competing) are shopping and sightseeing. I didn't realize London was such a big and busy city. Between the regular crowd and the Olympics element, it's always moving.
Now on to week two.
Having fun.
Wish you were here.
For more visit www.JaneMitchellOneOnOne.com
---
Taking a Chance on a Ticket to Swim
Tuesday, July 31
After a somewhat low-key day collecting video images and making plans for other days, the course of my afternoon changed at 5 o'clock at Stratford's Westfield Mall, the hub of the entrance to Olympic Park.
A man with a colorful clown wig was offering tickets for sale. Was that allowed? He said if they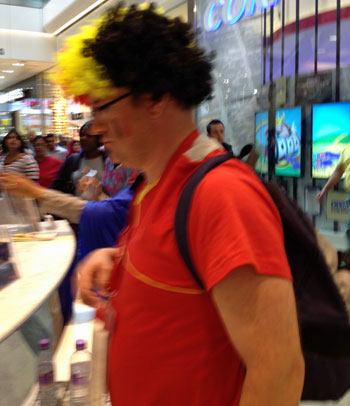 were sold below ticket face value, it was. "So what do you have?" "One ticket for swimming for tonight. It cost 185-pounds, but I will sell for 100 pounds." He was from Belgium, had tickets to 22 games, but was already exhausted after three days. I said, "I don't know how much cash I have, but I'm going to take a chance, and believe you that the ticket is authentic." I had 90 pounds cash. We made the exchange. Being one to "document the moment" I asked if I could take a picture and interview him. He said, "Yes, of course." His name if Philip Vermet, a Dutch language and history teacher. "I love the Olympics and I come for Belgians and the Olympics Sports," he said. " I go to 22 sports for two weeks." What's been special so far? "Certainly we have one medal already. For a small country like Belgium it's really fantastic, first-day medal, so I hope we get many medals the rest of the tournament." The red, yellow and black festive wig and face-paint all made sense. He hoped he helped me, and wished me a good time.
That wish came through.
With less than two hours before the 7:30 start time, I moved fast throu
gh the mall to grab a sandwich, a new backpack for my computer, iPad, cameras, etc., then quickly to the Olympic Park entrance. I anticipated long lines to get in, because I had seen them earlier in the day. The adrenaline was pumping as I'm shooting video along the way. But would the ticket be good? At the sound of the first greeter saying, "come along on in, have a good time" the then "beep" from the scanned bar code, the ticket was legit. I was relieved.
With now less than twenty minutes until the start, and a huge area to cover to get to the Aquatics cent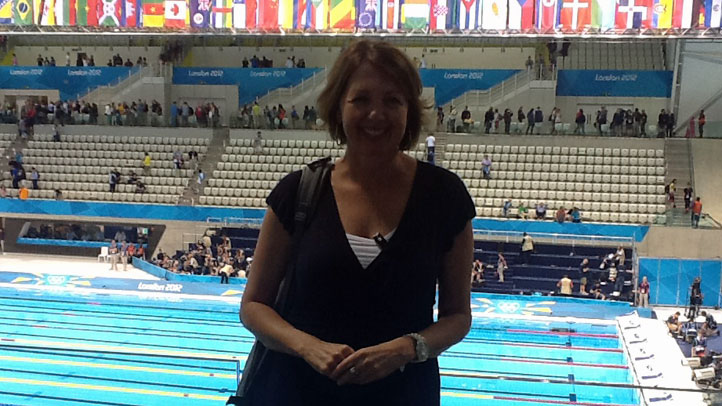 er, I hustled passed the lovely flowers and river, over the bridge, up the steps to the sign for section 401. I took the stairs. Four flights! Oddly, I was about the only one on the stairwell, because as I stepped into the seating area, I realized all spectators were already there. As I sat down and looked out, I was in awe of the beautiful blue pool and was instantly surrounded by a fantastic energy of a crowd. The German girl to my right loves all sports here on "holiday." The row in front of me was enthusiastic when any of the Team GB was announced. Flags, signs and sounds from many countries saturated this spectacular venue.
A big television on the rafter in front of my section was perfectly placed to be able to see the screen and the close ups of the swimmers, then look down to see the real live action for Women's and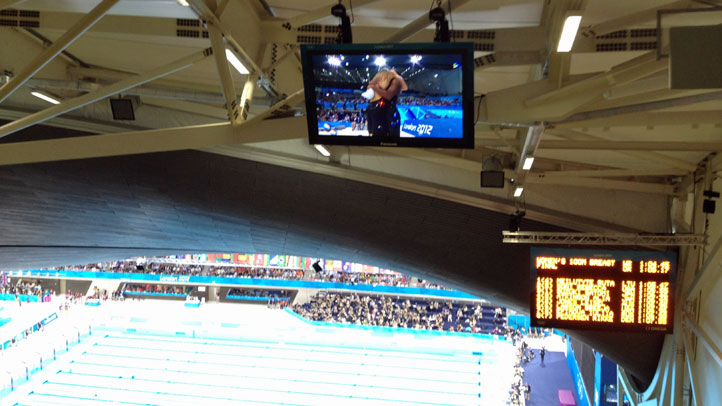 Men's Semi-Finals and Finals. When an athlete was introduced, their home country supporters reacted, but so did nearly the whole center. It was thrilling to see and hear the Americans -- Ryan Lochte, Michael Phelps. No question. And what a memory to see Missy Franklin win the Gold in the 100m Backstroke and to witness Matt Grevers set an Olympic Record for a Gold with teammate Nick Thoman the Silver in the 100m Backstroke.
B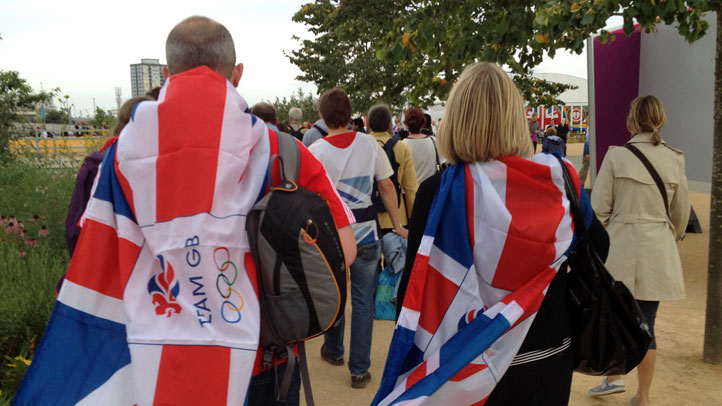 ut the biggest takeaway? A strong sense of international community and unity; how in a place where there is such national pride for each country and their athletes, there is a tangible spirit of celebrating not only pure competition but encouragement of an athlete's efforts, excellence no matter the outcome. I didn't hear a single boo. And when the national anthem began for the Gold Medalist's country? Everyone stood, showing such respect. While there are medal counts and a lot of pressure and expectations for any athlete or country to perform and deliver, as a spectator it seems people set aside their differences to unite in the celebration of sport.
So by taking a chance on a ticket to swim, with the man from Belgium in the funny clown wig, I have a Gold Medal of an experience to remember and a newfound appreciation of the power of the Olympic Games.
For more visit www.JaneMitchellOneOnOne.com
---
The Journey Begins: London Sights, Sounds, and Salutations
Friday, July 26
Amid the hustle and bustle of preparing for an international trip -- remembering the passport and foreign power plugs -- there is something quite relaxing when that trip is to London. Just stepping on the British Airways flight offers a sense of calm.
Being called "Miss", and hearing "let's have a look at where you're sitting" and that everything is "lovely" or "fantastic" (even when blocking the aisle in an attempt to stretch my legs during an 11 hour flight.) The English accent, attitude and service set a lovely tone for the start of even an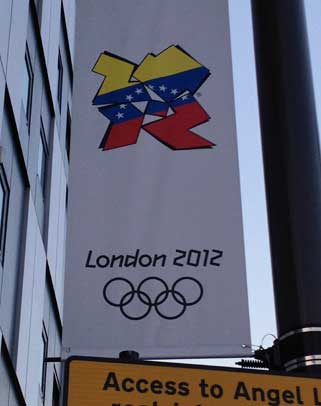 observer's Olympic expedition.
Landing at Heathrow Airport is like stepping into a stunning and modern masterpiece with high ceilings, glittering glass, and a polka dotted slate of modular lights and well placed easy to follow signs. Immediately, though, it's clear the welcome mat extends to not only world travelers, but also world-class athletes, their families and the media. Hot pink signs with white London 2012 logo and lettering, and volunteers in the signature pink shirts, are plentiful and helpful. Huge backlit sponsored banners of athletes leaping to new heights are eye catching. But it's a sea of turquoise and yellow shirts and matching suitcases that triggers the first goose bumps. Big and bold, Team Ukrainia is standing tall and in the house.
With customs a breeze, around the corner, an unexpected chuckle. Two men dressed in traditional red Queen Guard uniforms with tall black furry hats, and a straight face loudly greet visitors with "Welcome to Beijing!" Beijing? Those were the 2008 Olympics! British humor: subtle and perfectly placed.
Public transportation is not only the norm, but state of the art. The "Underground" subway system is easy to figure out, refreshingly clean, and fast. The first leg from Heathrow to Central London had plenty of space to sit with two suitcases. Hit the Holborn Central London stop to transfer to Stratford, and rush hour equates to New York. But with friendly Underground "crossing guards" to assist, and locals happy to step aside or help you step up, a loaded down tired traveler can't help but not stress.
Disembarking, outside the Stratford station, the much talked about rejuvenation of Lon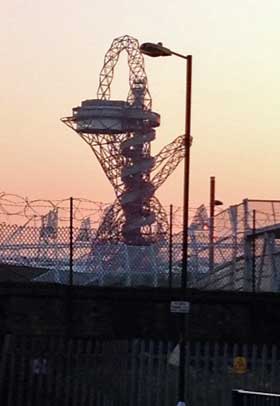 don's East side is apparent. The modern structures and signs meld with the old-fashioned but new red double decker buses. Quaint brick row houses, that might need a little sprucing up, on cobblestone streets are juxtaposed with new construction of Olympic Park, the spectacular Stadium structure, including the twisting observation tower that looks like a roller coaster in the shape of the Olympic flame.
Despite only three hours sleep, curiosity abounds, and a ten-minute trek back to the Apple store at the Westfield Shopping mall is relaxing. Like giant triple layered wedding cakes, 6-foot tall baskets of blooming petunias line the main street. Looking up, white banners with London 2012 hang on the lampposts. Surprisingly, there are no "Sponsor" names, and within each of the Logo shapes, on each banner is a different flag of individual countries participating in the Games. The USA flag is familiar; the others require some Internet matching. But the idea that all are represented even in the signage is another early example of how London and the UK want to be welcoming and inclusive.
The sights, sounds and salutations: a great start, with many more to come.
For more, visit www.JaneMitchellOneOnOne.com