A sinkhole opened up on a major highway in San Diego, sending water and mud into several lanes and shutting down the main east-west artery during lunchtime.
The California Highway Patrol issued a SigAlert for eastbound Interstate 8 in the Hotel Circle area of Mission Valley after a pipe burst. Several hours later, around 6 p.m., officials began to open up lanes.
While San Diego City water crews were working on repairing the break in the pipe, Caltrans crews were on the scene assessing the damage to the road. There was no information on how long the closure would last.
The flooding was reported at 12:07 p.m. along the right shoulder of the freeway near the Hotel Circle off-ramps.
Sean Cawkins was outside eating lunch and said he noticed a geyser in the air and heard what sounded like a rumble.
"Just looked down the street and saw the water shooting up in the air," he said. "It was going up about 20, 25 foot in the air."
A CHP officer at the scene described a sinkhole approximately 8-feet wide.
Water bubbled from the broken asphalt and left a pool of muddy water in several lanes.
Approximately 100 yards away, more than a dozen cars were stopped in various directions as flood water covered the highway.
Broken Water Main Causes Sinkhole on I-8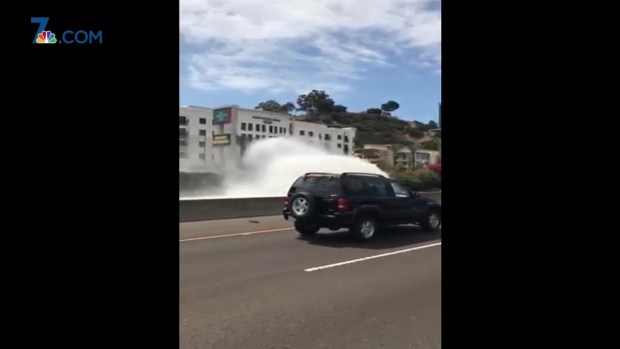 CHP officers immediately stopped traffic just east of the sinkhole and began closing on-ramps from the busy Interstate 5 for several hours.
The priority was to divert drivers heading to the area, CHP Officer James Bettencourt told NBC 7. Officers opened up the center divider and sent those drivers stuck by the closure in the opposite direction to clear them from the area.
No one was injured, he added.
Sinkhole Opens on I-8 in Mission Valley
Justin James described seeing a pile of cars lined up along I-8 and he advised people to stay away from the eastbound I-8 when they leave work tonight.
"I don't know what you got to do, but don't take this freeway," he said.
The CHP agrees. If you don't have to be in the area, use other east-west highways in the area like state routes 52, 94 or 56.
"Avoid the I-8 at all costs if you're west of the I-805 freeway," said CHP spokesperson Jake Sanchez.
Here are the closures:
Southbound Interstate 5 from Clairemont Mesa to eastbound I-8 on-ramp
Nimitz, Mission Bay Drive and Sports Arena Boulevard to eastbound I-8
Morena and Rosecrans to eastbound I-8 on-ramp.
Two lanes now open at Eastbound I-8 at Taylor Street; the rest remain closed
All lanes of EB I-8 east of Taylor St are blocked due to a water main break. #SDCaltransAlertpic.twitter.com/vCnZO2UeP2

— Caltrans San Diego (@SDCaltrans) September 14, 2017
Traffic was being diverted from Interstate 8 via Taylor Street.
From there, drivers will travel eastbound on Hotel Circle and get back onto I-8 from the Hotel Circle on-ramps.
An accident along eastbound State Route 52 at Interstate 5 did cause traffic to back up on the freeway. Some drivers were diverted to those freeways from the sinkhole.
No further information was immediately available.
Update: The SB & NB I-5 to EB I-8 ramp is closed. The Nimitz, Mission Bay Dr, and Sport Area on-ramps to EB I-8 are closed.

— Caltrans San Diego (@SDCaltrans) September 14, 2017