San Diegans woke up Saturday to more rain across the county and dense fog and wet weather.
The National Weather Service said the dense fog and scattered showers would persist through 11 a.m. The fog should then lift, except over elevated terrain.
As always, the NWS warns motorists to be extra cautious on wet roads. The fog may impact visibility, so staying alert while driving is key.
Several crashes were reported across the county Saturday due to slick roads.
The fog heavily impacted Round 3 of the Farmers Insurance Open in Torrey Pines. Play was delayed several times throughout the day and it is now likely the golf tournament will extend into Monday.
Friday was another wet, gloomy day for San Diego, with rain sweeping the county.
Roadways were littered with crashes and traffic was backed up for miles, especially on wet freeways.
On Interstate 15, motorists experienced brake lights for miles during Friday evening's rush hour commute. An overturned big rig blocked the I-15 lanes for hours, making that drive home difficult for locals.
By 8 p.m. Friday, the relentless rain had found its way to low-lying areas like Nestor. Workers closed down the 1800 block of Saturn Boulevard due to some flooding Friday night.
The rain also brought urban runoff to local beaches.
The Department of Environmental Health issued an urban runoff advisory for San Diego's coastal waters. Swimmers, surfers and divers are urged to stay out of the water since levels of bacteria can rise significantly in ocean and bay waters, especially near storm drains, creeks, rivers and lagoon outlets that discharge urban runoff.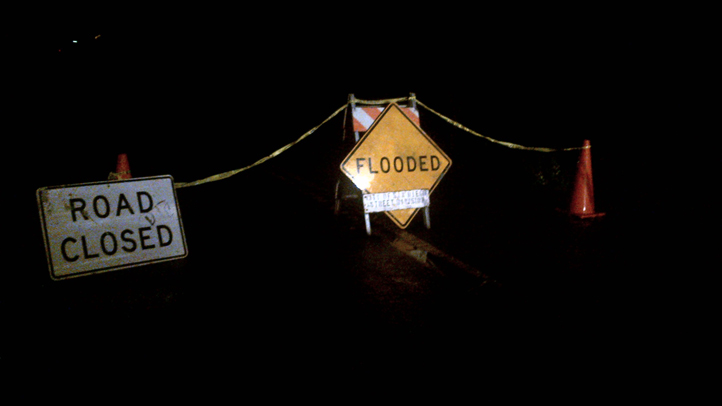 The Department of Environmental Health says water-based activities should be avoided for 72 hours following the rain, including at coastal beaches, Mission Bay and San Diego Bay.
For updates on beach closures in San Diego, call this hotline: (619) 338-2073.
As of now, the NWS says there's a 30 percent chance of showers on Sunday too, mainly after 4 a.m.
According to NBC 7 meteorologist Jodi Kodesh, this rain storm has brought .92-inches of rain to San Diego in just 24 hours.
"We typically get just a little more rainfall than that the ENTIRE month of January," said Kodesh.

For the latest local weather updates, click here.
Published at 10:33 AM PST on Jan 26, 2013 | Updated at 3:53 PM PST on Jan 26, 2013