A former San Diego Gas and Electric employee has pleaded guilty to killing a man with an SDG&E truck and fleeing the scene.
The trial against Hector Hoyt, 55, was expected to begin Wednesday. Instead, Hoyt changed his plea and pleaded guilty to one count of felony hit and run causing death.
Robert Fisher, a 54-year-old homeless man, died Jan. 6 after being hit by Hoyt while crossing the 200 block of Jamacha Blvd. in El Cajon. The utility truck kept going, leaving Fisher lying in the middle of the street. Moments later, a second, separate vehicle accidentally ran over him again. That driver stopped and called 911.
Hoyt was not on the job at the time of the accident.
Ex-SDG&E Employee Arraigned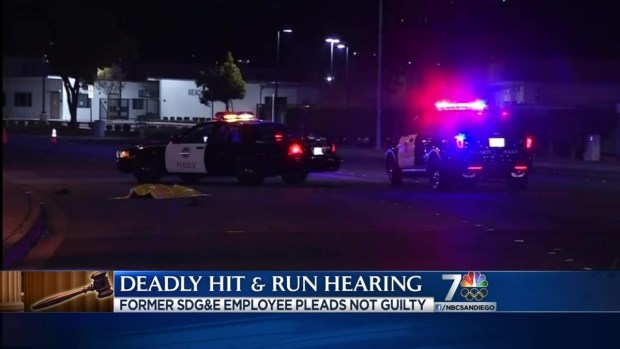 Hoyt's private defense attorney Russell Robinson calls the case a "tragic situation for everybody involved."
"Had he (Hoyt) just stopped, stayed right there, we couldn't have this conversation. No crime of any kind," Russell said. "He didn't cause the accident. It was nothing about him or his vehicle that was negligent or inoperative. It was leaving, and that's when he panicked to save his job."
The guilty plea means Hoyt won't go to trial, saving taxpayers money and saving the families from more turmoil, according to Deputy District Attorney George Modlin.
"Justice I believe has been done. I think it is a fair resolution to the case," Modlin said. "Whether it's satisfying or not, we still have an individual who died, which is unfortunate and tragic."
Hoyt has been receiving treatment for post-traumatic stress disorder since the accident happened, Russell said.
The victim's family has said the hit and run charge isn't enough and has vowed to sue SDG&E.
Family to Sue SDG&E After Fatal Accident
Hoyt faces a maximum of three years in prison, but his lawyer is confident he'll get work furlough or probation instead. Sentencing is scheduled for Nov. 17.
Published at 11:57 AM PDT on Sep 3, 2014 | Updated at 12:33 PM PDT on Sep 3, 2014