The fifth horse race on Saturday at the Del Mar Thoroughbred Club held special significance for a San Diego family mourning the loss of a father and husband tragically killed by a suicidal driver.
The "Douglas Menegos Memorial Race" paid tribute to Alpine resident Doug Menegos, 49, an avid horse racing enthusiast who once worked at the Del Mar Thoroughbred Club.
According to his wife, Lisa Menegos, the track holds a special place in her heart. It's filled with memories of life with her beloved husband, including the day he proposed to her.
"It was at Del Mar, while he was working, that we met and a few years later where he proposed to me in a hot air balloon," Lisa told NBC 7.
A Family's Plea for Answers
"We made it a tradition to bring the kids here yearly so that they could enjoy the atmosphere that we all learned to love through him. Del Mar is a place where we have so many beautiful memories that we cherish so deeply," she added.
Sitting in Stretch Run Level 4, Menegos' family looked on at the touching turf tribute, celebrating his life in the place he loved.
His brother, Nick Menegos, said visiting the track in Menegos' honor brought back a lot of memories of their childhood visiting the track. Nick said his little brother loved the atmosphere there and, of course, betting on the horses.
"He wanted to always be a jockey – that was his dream – and as he grew up, he got a little too big, so he got into bodybuilding instead," said Nick, with a chuckle. "He loved the horses; he had a passion for this."
On May 30, Trista Stier, 29, drove the wrong way on purpose up an off-ramp on State Route 67 in Lakeside just as Menegos approached the road in his utility truck.
2 Killed in Head-On Crash on SR-67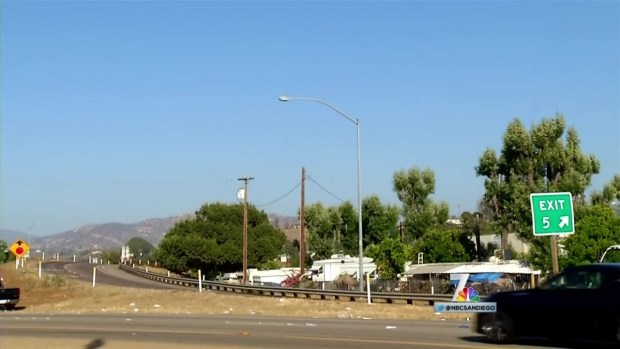 Stier's vehicle slammed head-on into Menegos' truck. Both motorists were killed as a result of the crash. Menegos, a husband and father of two, had been on his way home from work at the time of the collision.
From the beginning, California Highway Patrol investigators said it appeared Stier had driven the wrong way intentionally and was likely suicidal. Officials called the tragic collision an "intentional act-turned-homicide."
A report from the San Diego Medical Examiner's office obtained by NBC 7 last week said Stier had long battled with depression and tested positive for drugs, including methamphetamine, at the time of the suicidal crash.
The report said Stier had attempted suicide before and had become increasingly depressed again in the weeks and days leading up to the collision. On the day before the crash, Stier got into an argument with her boyfriend.
Menegos, investigators said, was a bystander in the crash and was simply at the wrong place at the wrong time.
In addition to Saturday's track tribute, Menegos' family continues to keep his memory alive through a Facebook memorial page. Loved ones have also established an online memorial fund for Menegos' wife and two children. So far, more than 350 people have donated more than $54,000 to the family. The page is filled with heartfelt messages for the family.
Nick said his brother will forever be remembered as a fun-loving, giving, caring family man who loved people and loved life.
"He was bigger than life," Nick told NBC 7. "He kept a positive attitude. I'm sure he's here with us smiling."