A child was killed when a U.S. Coast Guard and a private boat collided on San Diego Bay Sunday night. The accident was witnessed by crowds of people drawn to the water for the annual boat parade.
Anthony Cole DeWeese, 8, was on board a 26-foot Sea Ray with family getting ready to watch dozens of boats participate in the second weekend of the Parade of Lights. The annual event draws thousands to the edges of San Diego Bay.
The U.S. Coast Guard said one of its boats was responding to a report of a grounded vessel around 6 p.m. when it collided with the boat carrying DeWeese and 12 other people. Neither boat was participating in the parade according to a parade spokesman.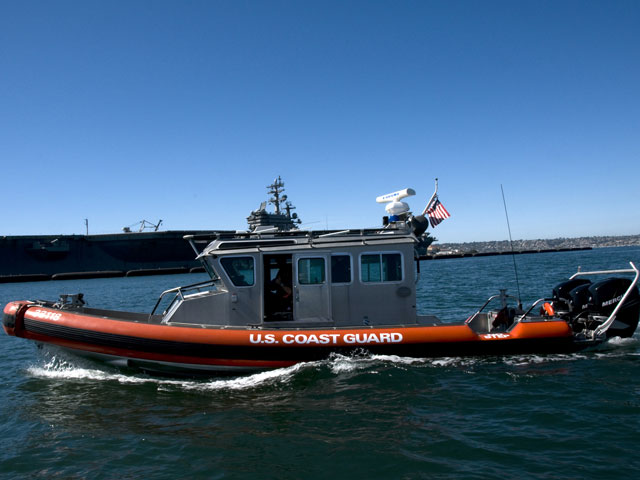 The child's grandfather, Roger DeWeese, told the Associated Press that his 44-year old son was driving when the Coast Guard struck the boat from behind.
Alan DeWeese, 44, of San Diego told The Associated Press he tried to get out of the way of the Coast Guard boat he estimated was traveling between 30 to 40 knots. DeWeese believes he was moving at 2 to 3 knots.
"I thought he was going to turn at some point," DeWeese said. "He came up so fast I didn't have time to react."
"The harsh sound of the collision could be heard clear across the bay over the parade boats blowing horns and playing Christmas music," witness Roger Parrish wrote in an e-mail sent to NBCSanDiego.
Anthony Cole DeWeese was first taken to Harbor Island where paramedics tried to revive him. He was later pronounced dead at UCSD Hospital.
"He enjoyed life to the fullest," the boy's father said Monday.
Five people on the recreational boat received "major traumas" according to fire department spokesperson Maurice Luque.
Two other children were taken to Rady Children's Hospital, and three adults were transported to University of California, San Diego Medical Center, said Luque.
Authorities have not said how the accident occurred, but it came just after sundown in clear weather with light winds. A Coast Guard spokesperson said the National Transportation Safety Board (NTSB) will be conducting an independent investigation.
"This dangerous boating accident has the appearance, as viewed from our vantage point on shore (approximately 200m), of being completely the fault of the U.S. Coast Guard vessel," according to Parrish. "Prior to the accident, the USCG patrol vessel was cris-crossing the shipping channel at high speed, in what appeared to the thousands of on-lookers to be a very unsafe manner."
However, one longtime sailor said that when the bay is very full of boaters, it can be difficult for the Coast Guard to respond to an emergency situation.
Burt Sevine, who has a 40-foot cutter and has lived on the boat for many years, didn't witness the accident but knows many who serve or have served in the U.S. Coast Guard.
"They're very careful, very cautious, very conscientious," said Sevine. "They know what they're doing."
"On a 20-foot boat, there's not much lighting going on there unless they had Christmas lights and it's easy not to see. It could be a number of situations," he said. "It happens so fast your reaction time is negligible."
Roger and Debbie Stoesz were out walking Sunday evening when they heard the sirens of several fire engines and spotted four or five police boats on the bay.
"We knew it was serious because of all of the flashing lights," said Roger Stoesz.
They said there was a lot of talk among the crowd of onlookers but that no one there at the time had witnessed the accident.
"It will be interesting to find out what really happened," said Debbie Stoesz.
The NTSB was sending four investigators to San Diego, said department spokesman Peter Knudson. They will examine damage to both vessels and determine whether there was any radio transmissions from the Coast Guard boat, Knudson said.
Gathering of evidence normally takes three to seven days. The investigation could take 12 to 18 months.
According to coaches at San Diego Ice Arena in Mira Mesa, Anthony DeWeese loved to play hockey. "He would come here three or four times a week to practice with the youth team,"said Coach Craig Sterling.
Valerie Andreassi's son played hockey with Anthony. She said telling him about Anthony's death was gut wrenching.
"My son just asked if he was no more, and I said that's right you won't won't see him at the rink anymore,"Andreassi said with tears in her eyes.
Anthony's father is an assistant coach on the team. Other coaches said you would see the pride in his eyes when he watched his son play.
"He was starting to become a real good goalie,"said Coach Sterling. "It's just so sad that this can happen to an 8 year old that plays hockey and loves the game, just a great kid all around."
Published at 10:34 AM PDT on Jul 12, 2011