A Lyft driver was unwittingly caught in the middle of a crime Tuesday when a customer hailed a ride after allegedly robbing a 7-Eleven convenience store in San Diego, using the ride-sharing car for his getaway.
San Diego Police Department (SDPD) Officer Billy Hernandez told NBC 7 that police were called to investigate a robbery at a 7-Eleven at 3603 College Ave. in Rolando around 4 a.m. A man had robbed a store clerk at gunpoint, demanding cash before fleeing on foot.
About 10 minutes into the police department's search for the suspect, an officer pulled over a Lyft driver in the area.
When the officer glanced at the passenger in the vehicle, he discovered the passenger matched the description of the man suspected of robbing the 7-Eleven store.
The Lyft driver did not know the passenger had robbed the store, and just thought it was a routine pick-up, Hernandez said.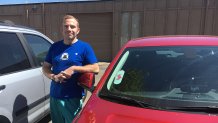 The robbery suspect was arrested.
The Lyft driver, Cameron Pryor, 35, was questioned and released by police who determined he wasn't involved in the crime.
NBC 7 spoke with the driver Tuesday, just a few hours after the incident.
Pryor, who's been driving for Lyft for about six months, typically works very early morning hours -- from 3 a.m. to 8 a.m. He drives for Lyft as a way to supplement his income as the owner of a brewery called California Wild Ales, which specializes in sour brews.
Pryor told NBC 7 he picked up the suspect in front of a home in the Rolando area and didn't notice anything unusual or suspicious about the passenger.
"He seemed really relaxed," Pryor recounted. "He said he just got off work, so I guess that's one form of work. And he didn't seem like just robbed a place at all."
"He was wearing a vest. It looked like he was a construction worker, so it looked like he did maybe, potentially was going somewhere, doing a job," he added. "I think he had a change of clothes with him as well."
Minutes later, Pryor was suddenly pulled over by police.
"The cop, I guess, saw him shuffling around when he started following us. He was stuffing a revolver and he was stuffing money under the seat as we were getting pulled over," he said.
Pryor stuck his hands out the window and cooperated. Pryor said officers did not suspect him of being involved in the robbery, but did have to question him to figure out details.
During their investigation, Pryor said police discovered the suspect was armed with a loaded revolver – although the bullets were placed backwards into the firearm. He had also stashed about $100 stolen from the store under the seat of Pryor's car.
SDPD Lt. Eric Hays told NBC 7 the suspect in the robbery is San Diego resident William Littrice, 24. He was booked into San Diego Central Jail on one count of commercial robbery and felony possession of a firearm, as well as violation of parole.
Hays said the clerk in the 7-Eleven robbery told police Littrice pointed a silver revolver at him during the robbery. Investigators are now looking into whether Littrice is responsible for any other robberies in the area. Littrice is scheduled to appear in court Thursday.
Pryor is grateful he wasn't hurt in the incident and still can't believe it happened.
"It was a pretty eye-opening experience for me being the getaway driver," he said. "That was my first experience with that, and hopefully last."