The 2016 Olympics officially got underway Saturday, featuring a harrowing bicycle race around Rio, a couple of rowers taking a dunk in a lagoon and one happy American shooter. Here are some of the incredible statistics from Day 1:
No. 1: USA's Virginia Thrasher took the first gold medal of the 2016 Games in the 10-meter air rifle. Read more.
0.48 seconds: The margin by which Adam Peaty beat his own record in the 100-meter breaststroke. The Brit finished in 57.55 seconds this time in a preliminary round. Read more.
79: Number of cyclists who did not finish the treacherous 237.5 kilometer men's road race through Rio.
200: Hope Solo has now played two centuries worth of games for the U.S. women's soccer team, the latest a 1-0 win over France. Read more.
41st: Ranking of Syrian refugee Yusra Mardini in the women's 100-meter butterfly, though the refugee team member won her heat. "I knew it would be difficult," said the star, who faced harrowing obstacles on her incredible trip to Germany. Read more.
57: Points separating the U.S., featuring NBA stars like Kevin Durant and Carmelo Anthony, and China in their rather lopsided 119-62 basketball game. Read more.
12: Years since Olympian rowers capsized in a race, as Milos Vasic and Nenad Bedik did Saturday.
92: Years since the last rugby match in an Olympics, though women didn't get to play the game in the 1924 Games, as they are now.
6 for 6: South Korea's Ku Bonchan's perfect score in the team archery finals against the U.S. "During the match, I only focus on each individual shot. I was very happy," said Ku, the proud owner of a gold medal.
4.79: Seconds faster than the second-place finisher that an absolutely dominant Katinka Hosszu was in a world record-setting 400-meter individual medley race. The Hungarian's 4:28:58 earned her a gold.
16: Age of American Kanak Jha, the youngest athlete competing at the Rio Olympics. He lost to Iranian Nima Alamian 4 games to 1 in the final preliminary match in men's table tennis.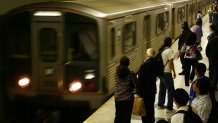 Sources: Rio Olympics, Associated Press
Copyright AP - Associated Press