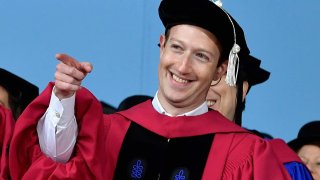 Mark Zuckerberg famously started Facebook in his Harvard University dorm.
But before he even went to college, Zuckerberg's father Edward offered his son an alternative — a future as a McDonald's franchise owner.
"My dad, funny enough, right before each of us went to college offered us the options of going to college or like investing in a franchise and running it," sister Randi Zuckerberg told CNN Business' Laurie Segall of her dad's offer to his son and each of his three daughters.
Of course, Zuckerberg chose Harvard — and then dropped out.
"I think [my parents] were like 'Okay, you probably should have taken the McDonald's franchise money if you wanted a business. But, okay, this might be a second good choice,'" Randi told CNN.
Don't miss: Highest-ever Amex Gold Card welcome bonus is worth up to $600 in gift cards
When Zuckerberg started college in 2002, no one could have foreseen that his time Harvard would eventually make him a multibillionaire.
In fact, had Zuckerberg chosen Big Macs over books, he could have made a good living by most people's standards. A 2016 report from CNBC and Franchise Business Review pegged the average profit of food and beverage franchises at $90,388 a year. And it's not unusual for McDonald's owners to make six figures, according to a 2015 Bloomberg story.
From NBC News and Shop TODAY:
October 2020: Best sales and discounts being offered this month
New & Notable: Latest products from Apple, Echelon, and more
Drink more water and stay hydrated with these 11 smart products
Of course, Zuckerberg currently has a net worth of $66.6 billion, according to Bloomberg's Billionaires Index, which roughly translates to making over $4.7 billion a year since he dropped out of college in 2004.
It's unclear how much Zuckerberg's father would have had to invest for a McDonald's franchise in the early 2000s, but today, according to the McDonald's website, the total investment to begin operation of a traditional McDonald's franchise ranges from $1,013,000 to $2,185,000, and that "profitability depends on many factors."
Don't miss: Trump's getting trolled for Clemson fast food dinner, but Warren Buffett and others are big fans of junk food too
Like this story? Subscribe to CNBC Make It on YouTube!
Copyright CNBCs - CNBC