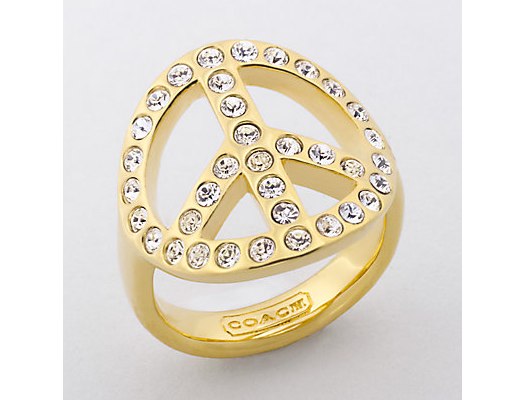 NO SWEAT: Connect with nature or your lunchtime girlfriends in easy, breezy neutral layers. The Cropped-Sleeve Long Cardigan at Gap ($70) in oatmeal heather looks just as chic over contemporary layers as it does belted over a peasant blouse.

GIVE BLING A CHANCE: A far cry from peace signs of days past, today's symbol is best expressed in golds, silvers and gems. The New Pave Peace Sign Ring from Coach ($78) gets the message across while staying true to style.

DYE ANOTHER DAY: Though tie dye has made its way back into mainstream clothing stores, it's still possible to overdo it. Integrate it simply and subtly with accessories like this tie-dye looking silk scarf from Yasmintoo on Etsy ($25). The light sheen combines with soft purples and grays for easy weekend and office dressing.

KNIT FIT: If you love boots but can do without the formality, keep your feet toasty with a pair of knit boots instead. The Bearpaw Knit Tall boots at Forward Footwear ($66) fold down for booties or up for calf-skimming comfort, and look lovely in gray heather, tan or dark brown.