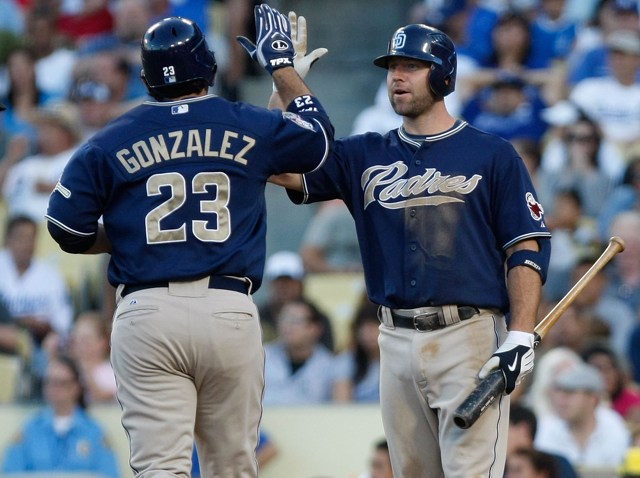 San Diego first baseman Adrian Gonzalez tried on his second Golden Glove on Wednesday, but a teammate who seemed a shoo-in did not.

Critics are wondering why fellow Padre infielder Kevin Kouzmanoff didn't get the third-base award, which went to Washington's Ryan Zimmerman. Kouz finished the season with a .990 fielding percentage -- a single-season record for National League third basemen -- and the Hall asked for a game-used glove from this season.
One argument is that Zimmerman -- who had 17 errors to Kouzmanoff's three -- has better range the Friars' third basemen. Who votes? National League managers and coaches.

St. Louis catcher Yadier Molina was also a second-time winner, as was Philadelphia Phillies outfielder Shane Victorino. A Phillies teammate, shortstop Jimmy Rollins, won his third consecutive NL Gold Glove, officials said.

Cardinals pitcher Adam Wainwright succeeded Greg Maddux, who won his record 18th last year. Dodgers second baseman Orlando Hudson won for the fourth time, taking over from Cincinnati's Brandon Phillips. Houston outfielder Michael Bourn and Dodgers outfielder Matt Kemp also were first-time winners.
Copyright AP - Associated Press