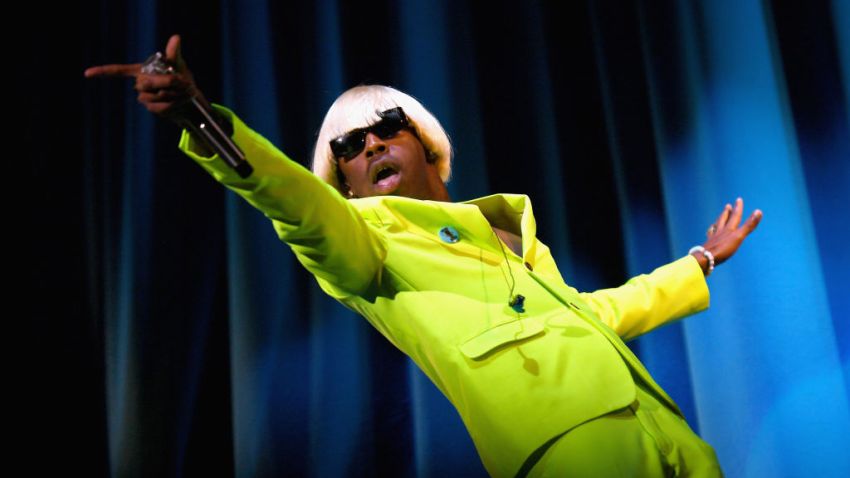 Rocktober! Gosh, I love that term: Rocktober! So let's rock, shall we? And in case you didn't know, I host two different shows on 91x, both on Sunday nights. First up, Loudspeaker, local music for three hours at 7 p.m. and then at 11 p.m. the FTW New Music Show, showcasing bands from all over the world, so tune in. Besides that, you can find me at the Merrow every Tuesday (local bands, you should bring me your music, these are my office hours). I'm also still helping the Casbah fill in the blanks on the calendar, when they need filling, so keep that in mind. And now on with the shows:
Oct. 1: Mercury Rev and Beth Orton at the Soda Bar performing Bobbie Gentry's "The Delta Sweete."
Oct. 2: Banks at SOMA. Downtempo electronic pop.
The Scene
Food. Fun. Lifestyle. Features. All in America's Finest City.
Oct. 3: Vampire Weekend at Cal Coast Credit Union Open Air Amphitheatre. "Father of the Bride" Tour.
Oct. 4: Starcrawler at Vinyl Junkies Record Shack. Free show! 7:30 p.m. -- new album "Devour You" available Oct. 11.
Oct. 5: Cigarettes After Sex at the Observatory North Park. Brooklyn-based ambient pop band with some epic sounds.
Oct. 6: The Living End at Brick by Brick. Australian-based band that mixes pop-punk and rockabilly.
Oct. 7: Idles at the Observatory North Park. One of my personal favorites, this band from the U.K. is powerful.
Oct. 8: Michael McDonald at the California Center for the Arts, Escondido. This guy is so smooth, plus he used to front the Doobie Brothers.
Oct. 9: Dropkick Murphys and Clutch at Petco Park. Drink it up buttercup and wear your dancing shoes.
Oct. 10: Bush and Live at North Island Credit Union Amphitheatre. The '90s return.
Oct. 11: Lana Del Rey at Cal Coast Credit Union Amphitheatre. I still can't believe she covered Sublime's "Doin' Time" on her new record.
Oct. 12: The Waterboys at the Observatory North Park. Popular band from the '80s still making great records.
Oct. 13: Morcheeba at the Belly Up. Trip-hop at it's best.
Oct. 14: Black Joe Lewis & the Honeybears at the Casbah. Blues, soul and rhythm & blues.
Oct. 15: Ride at the House of Blues. Shoegaze for life! It's a genre.
Oct. 16: The Who and Liam Gallagher (formerly of Oasis) at the Sports Arena (Pechanga Arena). Wow, what a great double bill!
Oct. 17: Kikagaku Moyo at Marko Disco. Psych rock from Tokyo in Tijuana, more and more bands are playing TJ -- is it a sign?
Oct. 18: Chelsea Wolfe at the Observatory North Park. Dark folk and metal, it's dark.
Oct. 19: Tyler, the Creator at Pechanga Arena. The man behind Odd Future and Golf Wang and Camp Flog Naw -- a true renaissance man.
Oct. 20: Guns N' Roses at Estadio Caliente. Welcome to the jungle, baby, and to Tijuana.
Oct. 21: Pruitt Igoe, Haydee Jiminez, spacewizardsinspace and Amzel at the Casbah. This is local music from San Diego, you should support it...
Oct. 22: The Kooks at the Observatory North Park. British rock band, just a little Brit-pop.
Oct. 23: Engelbert Humperdinck at the Magnolia. A crooner and an easy listen, that voice is like butter and I always giggled at his name when I was a kid.
Oct. 24: Lizzo at Cal Coast Credit Union Amphitheatre. A force to be reckoned with, she is multi-talented and sends a great message.
Oct. 25: Rocket From the Crypt at House of Blues. A House of Blues Halloween party but for those old enough to know, it will remind you of a classic Casbah Halloween Party.
Oct. 26: Agnostic Front and Prong at Brick by Brick. Punk and hard rock, together.
Oct. 27: Ra Ra Riot at the Belly Up. Syracuse-based indie-rockers. They have the Syracuse sound (I just made that up).
Oct. 28: Saintseneca at Soda Bar. Folk-rockers from Columbus, Ohio.
Oct. 29: Todd Snider at the Belly Up. Americana, alt-country, and folk all told with a sense of humor.
Oct. 30: OK Go at California Center for the Arts, Escondido. Their videos are always stellar and they write fun songs.
Oct. 31: Happy Halloween! Trick or Treat, smell my feet, give me something good to eat!
Even I am overwhelmed by the great shows in town on any given night. I am only one man and can only be in so many places, but it keeps moving forward, so I may need to clone myself. Hopefully I piqued your interest and you will get off the couch and go out to see some "live" music -- I mean, it is Rocktober after all!

Tim Pyles, a longtime local who grew up in La Jolla, is the unofficial mayor of local music and hosts Loudspeaker via 91x every Sunday from 7-10 p.m. He also books local acts at the Casbah, Public Square Coffee and the Merrow. Check out his website thelocalpyle.com and and follow him on Twitter here. You can reach him directly here pyleste@yahoo.com