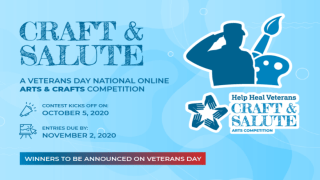 Craft & Salute - Online Arts & Crafts Competition
Join Help Heal Veterans and families from across the country for a national online arts and crafts competition to honor our veterans, while celebrating the healing and unifying power of crafting.
Contestants are encouraged to use any materials mixed media, photography etc. of their choosing to depict what the concept of military service means to them.
Entries will be reviewed by an esteemed panel of judges from the veteran, crafting and media community. Prizes will be awarded to the top three winning entries with the potential to be featured at an exhibit in Washington Dulles, Reagan National or Chicago O'Hare Airports.
To enter, please submit a high-resolution photograph of your completed artwork, a brief description of your completed piece (not to exceed 500 words), and a photo of your family to contest@healvets.org by 11:59 PM EST on November 2, 2020. Please also provide your full name, phone number, physical address and a valid email address in the body of your email.
You can view the Official Rules here.
Click here to download the event flyer.
NBC 7 Community
NBC 7 in our community
Please help spread the word on social media about this competition using the hashtag #CraftandSalute.