On Tuesday, March 26, Jeff Mangum played San Diego for the first time since his long hiatus from music.
Tall Firs opened the show with a set of hushed electric folk songs reminiscent of the better elements of '90s indie rock. Pavement and Sonic Youth's more delicate moments come to mind. With soft breaking voices and a haunting ambiance, dual electric guitars tiptoed around the fragile sighs of the two singers.
When the lights went down for Jeff Mangum's set, the 14-year wait for many was about to be over. He began with the quick strum of "Holland, 1945" to a ferocious applause. He sported a thick beard as if recently released from captivity and he seemed genuinely happy to be performing these songs born in the mid to late '90s.
The songs from both Neutral Milk Hotel albums work in two very divergent settings and ways. These songs are equally comfortable in the hands of a raw and raucous rock ensemble with punk energy, sweat, looseness, fury and grit as they are strummed in the silence of an antique theatre. The set started a little shaky with an ebb and flow of time, but by the third song, "Gardenhead," he had caught his stride. His staccato stabs at old acoustic guitars were percussive and mesmerizing, and his voice was droning, hypnotic and acridly meditative, spilling a waterfall of enthralling abstract imagery over a predominately focused crowd.
The silence of the audience reached its height during the eight-minute plus "Oh Comely." However, the audience was the one detraction from the show. The songs of Neutral Milk Hotel performed in an acoustic fashion command a certain awe-filled respect and silence. When one is about to perform such gut-wrenching poetry as a solo artist, one doesn't expect to hear someone yell from the balcony, "IMPREGNATE ME!" Inane shouts like this created a disconnect between songs; he seemed hesitant to communicate and just kept the set's train moving. He urged the audience to sing along as much as possible, but unfortunately most people were at a loss for lyrics and the campfire feel wasn't fully fulfilled.
For "Naomi" and "April 8th." Jeff was accompanied by a cellist who beautifully accentuated the sparseness and added those familiar missing parts. The beginning of "April 8th" was stripped down to vocals and cello and created a completely entrancing, ruminating atmosphere.
The performance was overall a stunning one. Mangum has a unique voice and wields its limitations with every ounce of energy he owns. It is spellbinding, and for those huge fans, somewhat transcendent. We can only hope this isn't a brief nod to the nostalgia for our yesterdays, but perhaps a precursor of more music to come.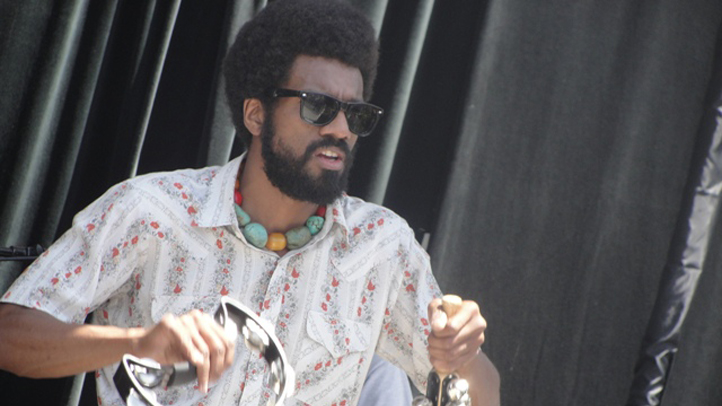 Alfred Howard writes lyrics for the Heavy Guilt and the Black Sands. He also writes music reviews for Owl and Bear.
Published at 11:44 AM PDT on Mar 29, 2013 | Updated at 2:52 PM PDT on Mar 29, 2013