Dana Griffin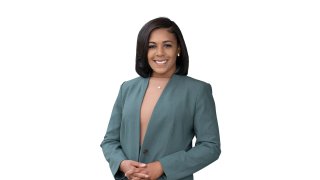 Dana Griffin joined NBC 7 as reporter and fill-in anchor in April 2021.
Connecting with people, highlighting important issues and breaking news fuels her passion for journalism.
Previously, Dana worked as an anchor and investigative journalist at WYFF in Greenville, SC. She reported for KCRA in Sacramento -- covering raging wildfires, Sierra snow and the complex political scene. Dana also worked in Providence, RI where she covered Aaron Hernandez's first murder trial for months in Massachusetts.
She started her on-air career at KIEM in Eureka, Calif., as a weekend anchor and reporter. Dana also worked behind the scenes in her hometown at WAGA in Atlanta.
She holds a degree in Mass Media Arts from Clark Atlanta University where she graduated magna cum laude. Dana pledged the Alpha Pi chapter of Alpha Kappa Alpha Sorority, Incorporated. She was also co-captain of her college dance team: The Essence Dance Line.
Dana is a member of the National Association of Black Journalists and San Diego Association of Black Journalists.
She loves to dance and play co-ed flag football. Her team won the Greenville Sports League winter 2021 championship!
Dana loves to travel and is always down for an adventure. She's falling madly in love with this beautiful area and can't wait to explore more of its hidden gems. She'd love to hear your restaurant, hiking and outdoor adventure recommendations. (Surfing is already on Dana's bucket list.)
Follow her on Facebook (Dana Griffin NBC), Twitter (@DanaGriffinNBC) and Instagram (DanaGriffinTV).