A sudden thunderstorm brought powerful winds and intense rain to San Diego's East County Tuesday afternoon.
"All of a sudden you couldn't even see the parking lot because the wind and the rain were pure white just coming down," said Debbie Barrett, who was at a Rancho San Diego shopping center when the storm hit. "Everything in the front was flying around. Trees were falling."
Fallen trees crushed cars, damaged buildings and blocked roads.
"Everything was just going sideways. I saw some of the dead branches starting to blow off and the next thing I know, the whole tree is going over," Dan Barber said.
NBC 7 meteorologist Dagmar Midcap said the sideways winds were caused by a microburst.
Thunderstorm Damages Trees, Vehicles in East County
"A microburst happens when the rain cools the atmosphere and the weight of the storm begins to collapse. That air has to go somewhere when it hits the ground. Those wind bursts go sideways," Midcap said.
The National Weather Service (NWS) issued a Flash Flood Warning for northern San Diego County in the area around Borrego Springs until 7 p.m. Get severe weather alerts here
A Severe Thunderstorm Warning expired at 3:30 p.m. NBC 7's Doppler Radar showed the storm cell ranging from Encanto to Harbison Canyon around 1:30 p.m. The storm had mostly moved out of San Diego County and into Temecula and Murrieta when the warning was issued around 2:30 p.m.
No injuries have been reported.
RAW VIDEO: "Crazy" Rain Video from NBC 7 Viewer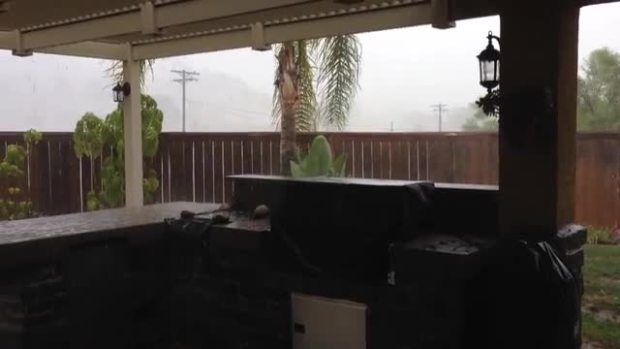 Rancho San Diego seemed to be hit hardest by the storm. Trees and debris littered the area around Avocado Boulevard.
Avocado Boulevard and Call Verde were closed for cleanup. Traffic was at a standstill on State Routes 125 and 94.
San Diego Gas and Electric's outage map shows several hundred customers in the area are without power.
Rancho San Diego resident Kari Craig said she didn't even know it was raining when she walked out to the garage to finish up some laundry.
"I opened the side door, and it was pouring rain," she said. She said the winds downed three trees, broke two umbrellas and damaged a large gazebo.
NBC 7's Derek Togerson said he watched a heavy downpour fall for approximately 20 minutes near Valhalla High School.
RAW VIDEO: NBC 7 User of "Crazy weather Mt Helix"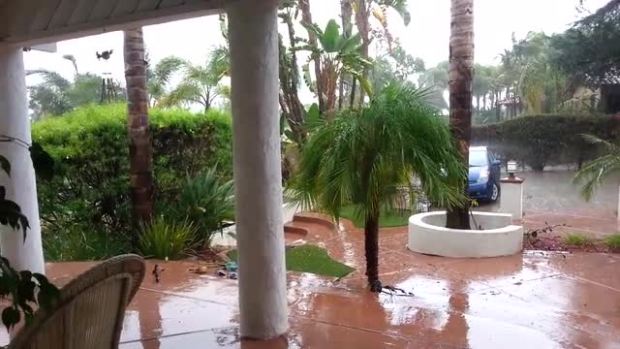 If you've got storm images or video you'd like to share, send it to isee@nbcsandiego.com or share it through the NBC 7 Facebook page.