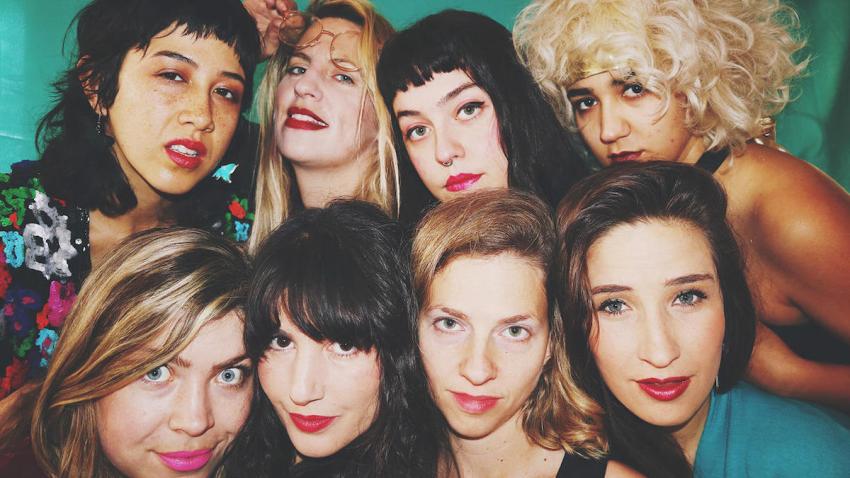 It feels like I'm not the only one who was really looking forward to this weekend seeing how many shows sold out overall, including both the Baby Bushka tribute to Kate Bush at the
Casbah
, Super Diamond's tribute to Neil Diamond at the
Belly Up
and country musician Steve Grand at Martini's Above Fourth, but you've still got some great stuff like the "transcendental black metal" of Liturgy at Soda Bar or Leftypalooza at Che Cafe featuring a ton of our local favorites at one of the rare all ages venues left in town. If you're out and about early, consider heading to Petco Park's Park at the Park to catch a special free concert with rockstar conductor Rafael Payere, who is already making a fresh mark on the San Diego Symphony.
SoundDiego
Music. Community. Culture.
Saturday, Nov. 9:
Kate Bush Night with Baby Bushka @ Casbah (sold out)
Liturgy, JC Meyers, Seizures @ Soda Bar
Super Diamond, Graceband @ Belly Up (sold out)
Leftypalooza featuring Ignant Benches, Lefties, the Bassics, Joynoise, Leon Canoe, Band of Gringos, Its Butter, Creepseed, Boysnight, Whatever Works @ Che Cafe
Steve Grand: 2019 Pink Champagne Tour @ Martini's Above Fourth (sold out)
DJs Dunekat and RT @ Bar Pink
Booty Bassment with Dmitri & Rob @ Whistle Stop
The Weller/Soto Quartet @ Dizzy's
Rafael Payare and San Diego Symphony @ Park at the Park at Petco Park (free, 3 p.m.)
Love Affair: A Queer Dance Party @ Space (9 p.m.)
Club Sabbat @ The Merrow (8 p.m.)
Cheetos Fest 2019 with DJs Dee Dee Grindhouse, A1, Bae Window @ Space (2 p.m.)
Blonde 54 @ Blonde
The Amandas, SDBW with Fall & Automatic @ Panama 66
Sammy Johnson, Swells OC, Lady Ri @ Music Box
Willie Colon @ The Magnolia
Russell Dickerson @ Seaside Stage, Del Mar Racetrack
Garrick Ohlsson: Brahms Exploration @ The Conrad Prebys Performing Arts Center
Zombie Prom @ California Center for the Arts, Escondido
XXV: the Silver Anniversary Exhibition @ California Center for the Arts, Escondido
Rumours of Fleetwood Mac @ Balboa Theatre
Francis Roberts, Vandalorium, Sombre Arcane @ Black Cat Bar
Chloe Lou & the Liddells @ Grand Ole BBQ & Asado (1-4 p.m.)
The Stand Back Blues Band @ Grand Ole BBQ & Asado (5-8 p.m.)
Ramekega @ Mr. Peabody's
Scotty Sire: What's Going on Tour, Toddy Smith, Bruce Wiegner, Chris Bloom, SonReal @ House of Blues
Country Brunch Live @ House of Blues (10 a.m.)
Midnight Track, Punch Card, Los Homeless, Space Motor @ Tower Bar
Cuarto Menguante @ De Oro Mine Co.
9V Murder, Last to Know, Batlords @ Bancroft Bar
Sully & the Souljahs @ Fast Times
Martin McDaniel @ Moonshine Beach
Whiskey, Cash and Roses @ Moonshine Flats
Carlos Rock Experience @ Winston's (2 p.m.)
Headphone, the Frets, Tasmic @ Winston's (10 p.m.)
Glue @ Seven Grand

Rosie's Exit Extravaganza with Doc Hammer, Lexington Field, Art Disposal, Digital Lizards of Doom @ Rosie O'Grady's
All in for Autism Poker Tournament @ The Rabbit Hole
Sleepwalking @ Manhattan Bar
Blue Man Group @ Civic Theatre (2 & 7:30 p.m.)
Mercedes Moore @ Wildwood Crossing
T-Dance @ The Merrow (12 p.m.)
Steph Johnson @ Plaza Bar, Westgate Hotel
Jerrry "Hot Rod" DeMink @ Crossroads, House of Blues (free)
Strictly Business with DJs Heminguey & Gabe Vega @ The Office
Shark Jones @ Riviera Supper Club & Turquoise Room
Totally '80s Band, Twin Ritual @ 710 Beach Club
Downtime @ Renegade
"Art of Flamenco" Dinner Show @ Cafe Sevilla
DJ Bacon Bits @ U-31
Detroit Underground @ Tio Leo's
SDBW: Mujeres Brew Club Takeover @ Border X Brewing
Platinum Vibe @ Humphreys Backstage Live (9 p.m.)
Bayou Brothers @ Humphreys Backstage Live (5 p.m.)
Hot Wheels Monster Trucks Live @ Pechanga Arena (12:30 & 7:30 p.m.)
Finesse, DJ Ms. Jo @ V Lounge, Viejas Casino
Trevor McSpadden, DJ Ms. Mo @ Lobby Bar, Viejas Casino
Da Tweekaz @ Bassmnt
Fngrs Crssd: Themba at Spin Rooftop @ Spin (4 p.m.)
Celebration of Local Talent @ Spin (10 p.m.)
Craig Smoove @ Fluxx
Warpath, DiVad, Mind Cell @ Navajo Live
DJ Vice @ Omnia
Vicetone @ Parq
Grum @ Bang Bang
AUF presents Umbrella Nights No. 10 featuring Bouquet Soundsystem @ Kava Lounge
DJs & Dancing @ Henry's Pub
Rosemary Bystrak is the publicist for the Casbah and writes about the San Diego music scene, events and general musings about life in San Diego on San Diego: Dialed In. Follow her updates on Twitter or contact her directly.