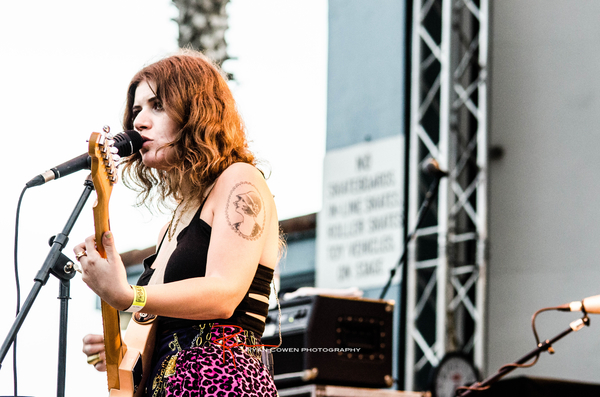 Oh, man. Tonight is another doozy for music in San Diego with cool stuff happening all over town. Personally, I'll be at Observatory North Park for stoner-indie-rocker Best Coast and fantastic opener Bully (who are also already scheduled to return for FM94/9's Independence Jam later this summer), but there are also a bunch of cool shows around town for your perusal. The Casbah welcomes the Pandoras with their throwback garage-rock sound, while Soda Bar has a killer lineup featuring our friends in Wild Wild Wets and New Mexico. Sleep Train Amphitheatre welcomes the Mayhem festival with Slayer as headliner and Whistle Stop hosts a great show with Stalins of Sound and Gloomsday. Throw in shows at the Fair, places like the Balboa, the Merrow and the Hideout, and you should be able to find something to suit your fancy
Friday, June 26:
Best Coast, Bully @ The Observatory North Park
The Pandoras, the Loons, the Mighty Manfred & the Magnificent, the Gargoyles @ Casbah
Wild Wild Wets, New Mexico, Max Pain & the Groovies, Soft Lions @ Soda Bar
Mayhem Festival feat. Slayer, King Diamond, HELLYEAH, the Devil Wears Prada, Whitechapel, Thy Art Is Murder, Jungle Rot, Sister Sin, Sworn In @ Sleep Train Amphitheatre
Stalins of Sound, Gloomsday @ Whistle Stop
Glasmus, Sleeping Ghost, the Slashes, Muscle Beech, the Cardielles @ The Merrow
'80s vs '90s @ Bar Pink
Sully Band's Challenged Athletes Foundation Fundraiser @ Belly Up (5 p.m.)
Third World, House of Shem, Animo @ Belly Up
Soul Organization @ Seven Grand
Raf Deza, Saba @ The Balboa
Perla Negra Ensemble @ Dizzy's
Acropolisrpm & Skinnie Magazine's Battle for Warped Tour 2015 with the Aura & Ovation, the Tramplers, Chamber Sixx, Oddball, Snapwire @ Brick By Brick
Quali, Winter, Witness 9 @ The Hideout
Cut Your Losses, the Snykes, Johns Last Ghost, Lobster Party, Leave the Universe, It All Starts Here @ SOMA
The Village Squares @ Tin Roof
Raelee Nikole, 76 Street, Joseph Carroll @ Lestat's
22 Kings, Joshua Taylor, David Ryan, Norguen @ Java Joe's
Groove International: The Patriot Palooza @ Voodoo Room, House of Blues
Charlie Wilson @ Grandstand Stage, San Diego County Fair, Del Mar Fairgrounds
Electronic Friday with High Frequencies, Royal Zeven @ Rock On Concert Series, San Diego County Fair, Del Mar Fairgrounds
Acoustic Friday with Jeffrey James, Aubryn, Adrianna Marie, Noah Rickertsen, Caroline Corn, Trace Jory, Kennady Tracy, Sean Byron, Phili V @ Paddock Series, San Diego County Fair, Del Mar Fairground (Noon-10 p.m.)
Josh Madsen @ The Bancroft
DJ Beatnik @ Park & Rec
DJ R-You @ U-31
Curtis Taylor Quartet @ Croce's Park West
Y3K @ Humphreys Backstage Live (5 p.m.)
Detroit Underground @ Humphreys Backstage Live (9 p.m.)
Spent Idols, Dead On The Wire, the Scandals & the Semi-Automatics @ Tower Bar
OB Comedy with Michael Delvey and Ehsan Ahmad @ Winston's (6-9 p.m.)
Revival, Layne Tadesse and 7 Seal Dub Band, Maitland Roots, TRC Sound Systems @ Winston's
Little Heroine, Adult Films @ Che Cafe
Marrrakesh with Kyle Flesch @ Fluxx
The Distractions @ Tio Leo's
Du Tonc @ Bang Bang
Junior theDISCOpunk @ Henry's Pub
Illuminati Congo, Noah23, Summon, Trust One @ Kava Lounge
Ent Kings Spin Off @ Gallagher's Irish Pub
Club Musae @ Boar Cross'n
Acoustic Happy Hour with Sam Hosking @ 710 Beach Club
V1be and Guests @ 710 Beach Club
Rosemary Bystrak is the publicist for the Casbah and writes about the San Diego music scene, events and general musings about life in San Diego on San Diego: Dialed In. Follow her updates on Twitter or contact her directly.