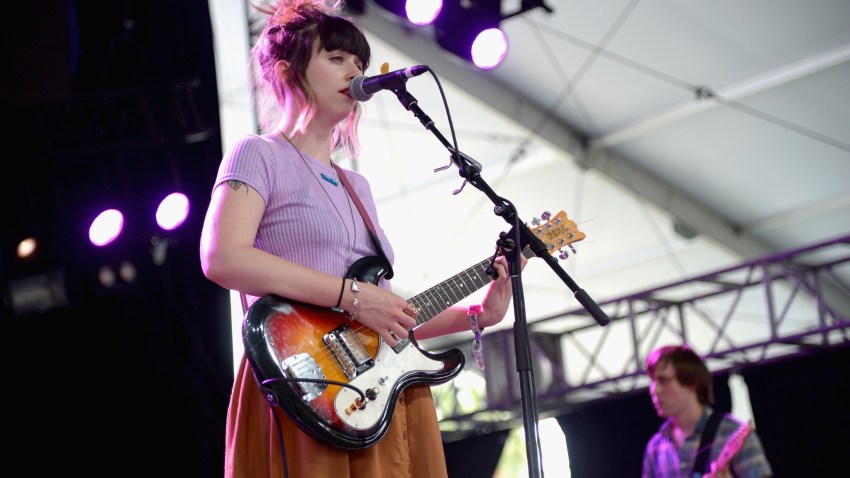 Yesterday was quite the blustery one in San Diego, so if the rain and wind kept you in, you can join in on the second day of Artwalk in Little Italy or Adams Avenue Unplugged. By nightfall there are some especially great shows, too. At Soda Bar, it's the return of Reptar. I don't think they've been to town since 2012, but after successfully touring with Foster the People way back then, the band has finally released their sophomore album, "Lurid Glow," and are touring in support. Around town, the always-amazing Kaiser Chiefs are at the House of Blues, and singer-songwriter Katie Crutchfield, who performs as Waxahatchee, plays at the Casbah on the heels of her third release, "Ivy Tripp."
Sunday, April 26:
Mission Federal Artwalk @ Little Italy (11 a.m.-6 p.m.)
Adams Avenue Unplugged @ Adams Avenue -- Normal Heights/Kensington
Waxahatchee, Girlpool @ Casbah
Kaiser Chiefs, Priory @ House of Blues
Reptar, Sandy's, Paper Days @ Soda Bar
Adams Avenue Unplugged: 11:30 a.m. Bobo Czarnowski, 12:30 p.m. Nathan Welden, 1:30 p.m. Gramophone Gregory, 2:30 p.m. Rob Deez/Kenny Eng, 3:30 p.m. Gregory Page, 4:30 p.m. Dead Rock West, 5:30 p.m. Lisa Sanders @ Java Joe's
Adams Avenue Unplugged: Rey & Davies (1-2 p.m.), Levi Dean and the Americats (3-4 p.m.) @ Sycamore Den
San Diego International Wine Show @ Del Mar Fairgrounds
Rat Sabbath @ Bar Pink
Moonsville Collective @ Quartyard
The Six String Society Show @ Belly Up (seated)
One Eyed Doll, From Chaos and Heaven @ House of Blues Voodoo Room
Pants Karaoke @ The Hideout
Lightning Starts Fire, Black Chapter, Dona Nova @ Brick By Brick
Reggae SD: TRC Soundsystem with Special Guest @ U-31
Gio & Diamond @ Croce's Park West (noon)
Besos de Coco @ Croce's Park West (7 p.m.)
Jesse Davis @ Humphrey's Backstage Live (10 a.m.)
J.J. Sansaverino @ Humphrey's Backstage Live (8 p.m.)
Full Moon Fever @ Winston's (5-8 p.m.)
Jose Sinatra's OB-o-ke @ Winston's (10 p.m.)
Open Mic Comedy @ Til-Two Club
Sunday Funday Karaoke @ 710 Beach Club
Peter Pan @ California Center for the Arts Escondido
Rosemary Bystrak is the publicist for the Casbah and writes about the San Diego music scene, events and general musings about life in San Diego on San Diego: Dialed In. Follow her updates on Twitter or contact her directly.