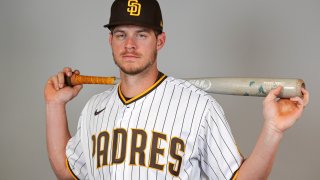 The San Diego Padres didn't get a hit until the 7th inning, but it didn't matter.
The Padres beat the Pittsburgh Pirates 2-0 at Petco Park, with all 2 runs and all their hits coming in the 7th inning.
Pirates starting pitcher Tyler Anderson mystified Padres batters through the first 6 innings. Anderson carried a no-hitter into the 7th before Wil Myers broke up the no-no with a single to right-field. Tommy Pham followed with a sac-fly scoring Manny Machado, who walked earlier in the inning. Austin Nola followed with an RBI double to right-center to make it 2-0 Padres, ending Anderson's night.
Anderson's final stat line was 6.2 innings, 2 runs and 2 hits, but despite his near no-hitter, he took the loss.
All of the Padres 3 hits came in the 7th inning, with the other coming against reliever Clay Holmes.
With the Padre pitching staff dealing with injuries, pitcher Miguel Diaz made his 2021 Major League Baseball debut and pitched well as a spot starter. Diaz went 3 innings, threw 50 pitches, allowed just 1 hit, struck out 3 and did not give up a run.
After Diaz, 5 Padre relievers combined on the shutout.
SportsWrap
The top sports headlines of the day
The Padres and Pirates continue their 3-game series Tuesday night at Petco Park.