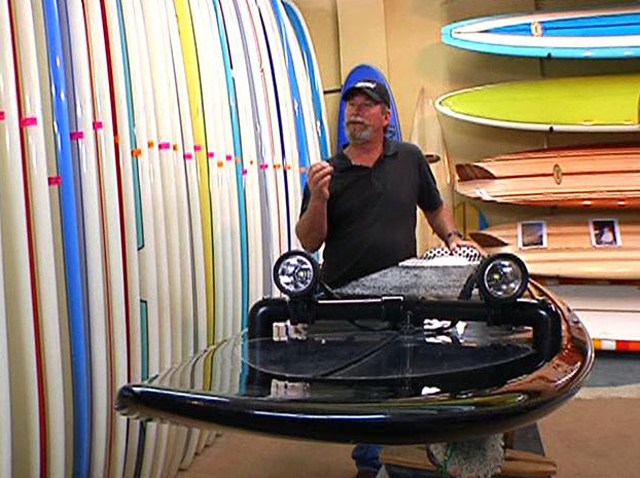 Bill Stewart describes himself as an "inventive, artist's, creative guy." Over the past 40 years he says he's shaped more than 30,000 surfboards, but nothing like his most recent.
"This is the weirdest, craziest most difficult thing I think I've ever built," says Stewart, "It's over 100 hours at least."
The San Clemente shaper's latest innovation is called Stewart's Night Stalker, and the title alone kind of gives it away.
SportsWrap
The top sports headlines of the day
"The lights are so bright," he describes, "It lights up the ocean like you wouldn't believe."
The 6'4" epoxy board features two waterproof headlights mounted over the board's transparent nose.
"So, you can tip the headlights down and light the ocean floor as you're paddling out."
A wire runs from the lights to two rechargeable batteries built into the board. He carved out space in the fins, inserting LED lights into each one. It's all waterproof, and the visual effect, Stewart describes as, "Beautiful. It's stunning."
The board is on display in Stewart's San Clemente surf shop, and one of the most common questions from customers is 'why'.
The answer is, it's part of a contest being put on by Billabong challenging about two dozen shapers to come up with the most unique design. The catch is, the board has to be ride-able. Stewart's has already been tested, and successfully ridden. He'll publicly reveal the board Saturday, August 7th from nine to midnight at the San Clemente Pier.
Stewart says his board, and the rest of the designs in the contest will be auctioned off the following weekend at the ASR convention in San Diego with the proceeds going to charity.
As for the future of the Night Stalker design, Stewart admits, "A lot of it's for photography purposes." He also says the current design is not cost effective enough to mass produce. The headlights alone cost him $600. Still, he says he'd like to keep working on the design to find a simpler, less costly way to produce the boards.
"We're not getting more surf spots. So, this might be a solution to people having fun surfing at weird hours," he says, "I don't know where all this is going, but it definitely spurs your thoughts."