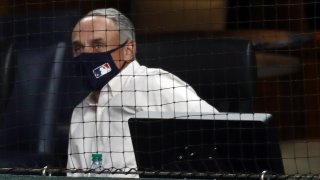 Well, here we are. Major League Baseball entered its first work stoppage since the 1994 strike and this one could also take a while to sort out. Derek and Darnay share their thoughts on the situation and what Rob Manfred has wrong.
Plus, the Padres serve as an example to a league full of teams who don't want - or know how - to compete. The guys also weigh in on the moves A.J. Preller made before the shutdown, and others that could be on the way.
LISTEN: With NBC 7 San Diego's Darnay Tripp and Derek Togerson behind the mic, On Friar will cover all things San Diego Padres. Interviews, analysis, behind-the-scenes...the ups, downs, and everything in between. Tap here to find On Friar wherever you listen to podcasts.