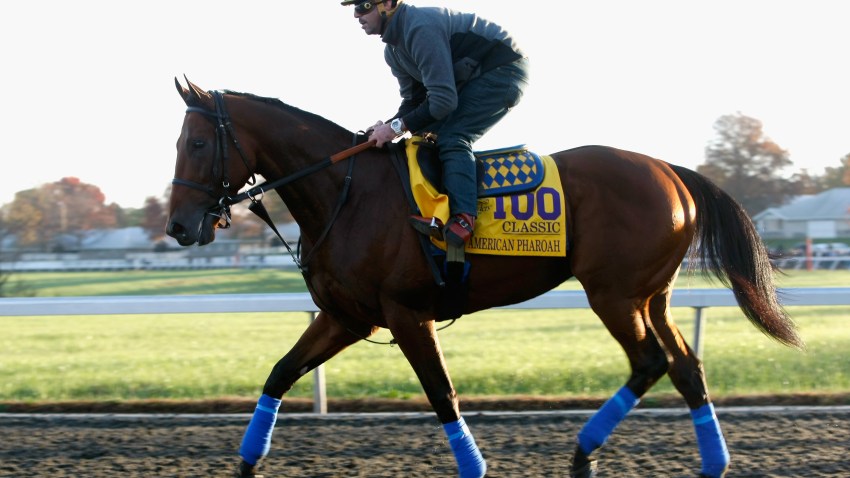 With apologies to Usain Bolt, right now most famous runner in the world will covers the track on four legs.

On Halloween afternoon American Pharoah will try to do something no other horse has ever accomplished: win the Grand Slam.

The Triple Crown winner will run the $5 million Breeders' Cup Classic, the final race of his career. No horse has won the Kentucky Derby, Preakness, Belmont Stakes and Breeders' Cup before and the folks who move the money think he's going to do it.

American Pharoah is getting 6-5 odds in Las Vegas, making him the overwhelming betting favorite to cross the line first in the 1 ¼ mile Classic. He was already the favorite but when Beholder, the horse most experts expected to be his biggest threat, withdrew due to a lung ailment even more cash went to American Pharoah.

British bookmaker William Hill has the first Triple Crown winner in 37 years as a 10-11 favorite.

"American Pharoah now looks to have a significantly easier task without star mare Beholder in the field and we've trimmed his odds accordingly," said William Hill spokesman Jon Ivan-Duke. "American Pharoah is easily the best-backed horse in the Classic already and the momentum could grow and grow."

Bookmakers around the world are going to either hate this race or love it. In global betting markets American Pharoah has attracted a staggering 90% of the money wagered in the Classic.
If he goes out a winner American Pharoah, who trained over the summer at the Del Mar Thoroughbred Club, will undoubtedly become the most lucrative horse in history. Typically a horse that's won even one Triple Crown race will retire and start a second career as a baby making machine. On average a horse will stud around 100 times a year for three to four years.
If he wins horse racing's first Grand Slam his owners could command $200,000 per stud, even more if his offspring start winning races while he's still active. Some experts think it's possible for American Pharoah to eventually bring in $100 million in stud fees alone.

But first thing's first. You can see if he wins yet another race Saturday afternoon on NBC 7. Coverage starts at 1 p.m. and post time for the Classic is 2:35 p.m.