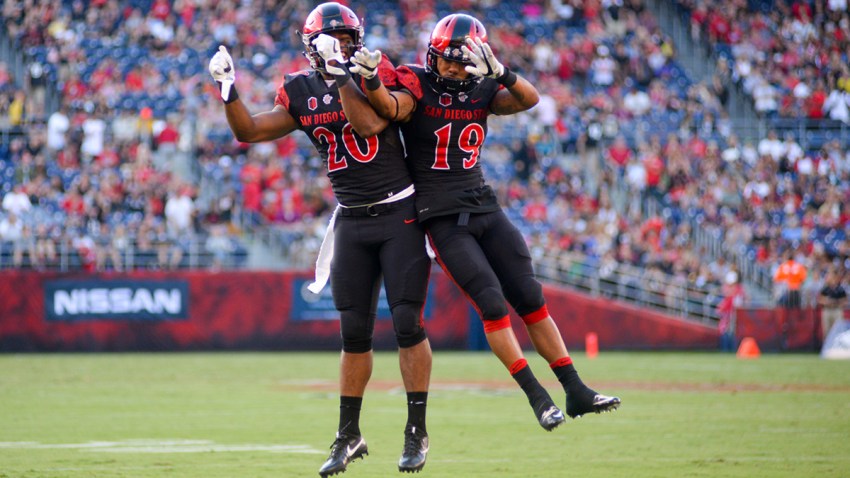 San Diego State shines at the "Q" with a 26-7 win over UNLV. This marks the Aztecs 12th straight conference win. A win that was much needed after a disappointing loss to South Alabama last week.
The Aztecs were quick to score in the first quarter, when quarterback Christian Chapman found Rashad Penny down field for a 41 yard touchdown pass. This gave SDSU an early 7-0 lead. Chapman ended the night 15 for 20 on completion passes with one touchdown pass and a total of 215 passing yards.
The Aztecs were successful in many areas tonight, relying heavily on the running game. It was Donnel Pumphrey who continued to shine for SDSU, finishing the evening with 31 carries 141 rushing yards and one touchdown to move him up to 14th on the NCAA all-time rushing list.
SportsWrap
The top sports headlines of the day
It wasn't all Pumphrey tearing up the gridiron tonight though; junior running back Rashaad Penny came through for the Aztecs. Penny finished the game with 14 carries 110 rushing yards and two touchdowns.
While the running game was a key asset to the Aztecs defeat over UNLV, the defense took it to another level. They were able to hold UNLV to just 7 points, and an accumulative total of 122 yards on offense. They finished with 48 total tackles and 2 sacks made by Alex Barrett and Austin Wyatt-Thayer.
The Aztecs advance to 4-1 and will take on Fresno State in their next game at Bulldog Stadium on Friday October 14.