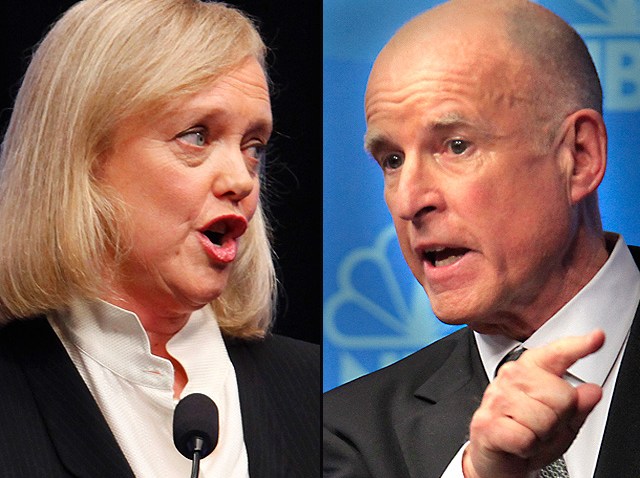 Republican gubernatorial candidate Meg Whitman issued a statement Sunday criticizing her Democratic rival, Jerry Brown, for his stand on illegal immigration.
"Jerry Brown and I couldn't disagree more on this issue," Whitman said in response to Browns remarks Friday at a rally at UCLA with former President Bill Clinton, where he said he wants to enable undocumented immigrants go to state universities and receive financial aid from the state.
"The state of California is in economic meltdown, and one of Jerry Brown's top priorities is to give financial aid and in-state tuition breaks to undocumented immigrants," said Whitman. "He not only supports legislation that would enable that type of state spending, he said it would be `one of the first bills' he'd sign.
"It's either reckless mismanagement of taxpayer dollars or political pandering for votes. The truth is the state can't afford either right now.''
She said Brown's position is wrong because it is unfair to California taxpayers and to the students and families that are here legally.
"As I've said consistently throughout this campaign, I believe that in this time of fiscal crisis and strain on our public colleges and universities, our priority must be to help kids who are legal residents go to state-supported college," added Whitman. "Jerry Brown just doesn't get it. If you play by the rules, you and your kids should be at the front of the line to benefit from the state's world-class university system."
As both candidates vie for Latino voters, Brown has said he supports comprehensive immigration reform and the so-called Dream Act, which would include a pathway to citizenship for illegal immigrants who attend college or enter the military.
At the UCLA rally, Brown again said he supports the proposed legislation.
"Yes, to the federal Dream Act, which I can't do anything about, except advocate, and yes to the state Dream Act, which I can do something about because our current governor just vetoed a proposal and I would have signed that bill," said Brown.
Copyright CNS - City News Service