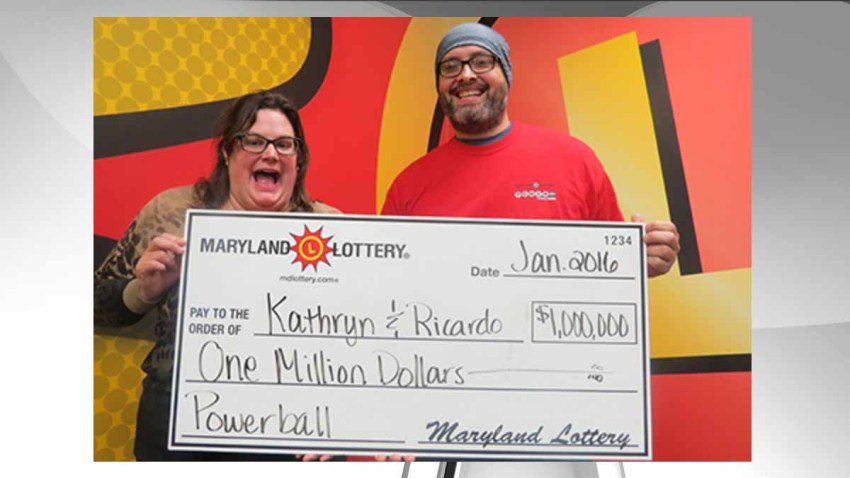 A Maryland couple won $1 million in the Powerball drawing Wednesday -- but they almost threw the ticket away.
The couple, identified only as Kathryn and Ricardo, posed with their big check on Thursday but had no idea earlier in the day that they had hit it big, the Maryland Lottery announced.
"I still can't breathe," Kathryn, 34, told lottery officials. "I just can't believe I almost threw away the ticket."
Kathryn went to work as usual on Thursday and said she was going to throw out her ticket because she had heard no one in Maryland won the big $1.6 billion jackpot.
One of her coworkers told her to check her numbers because a $1 million ticket had been sold at the Wawa gas station on Urbana Pike in Frederick, Maryland.
That's where she bought her ticket.
"I checked the ticket and saw that we won," she told lottery officials. "I went back to the store and had a cashier scan the ticket. When he said that it was too large to cash, I knew it was really happening."
Kathryn and Ricardo, who live in Frederick, rushed to Baltimore to claim their prize. They told lottery officials they plan to buy a house, take a vacation, invest and start a college fund for their 10-month-old baby.
Ricardo, 36, said he was thrilled to tell his mother the good news.
"One of the best parts about this was calling my mom," he told lottery officials. "All these years, I've wondered what it would be like to call my mom and tell her I won the lottery. It felt great to be able to make that call."
The Wawa station that sold the winning ticket will receive $2,500.
Other winning $1 million Powerball tickets were sold across the country. including, locally, an Amoco station on Walker Mill Road in Capitol Heights, Maryland, and a 7-Eleven on Annapolis Road in Bladensburg, Maryland, officials said.
The owner of the 7-Eleven store where the Bladensburg ticket was sold said sales were up for Wednesday's drawing. Stores that sell winning tickets get about six percent of the prize.
The winning $1 million tickets in Virginia were sold in Salem and Virginia Beach.
Two tickets worth $50,000 were sold in D.C. Those tickets were sold at the following stores:
Dave Brown Wine - 4721 Sheriff Rd. NE
Tenley Market - 4326 Wisconsin Ave. NW
At least three people in three different states were even luckier, winning a portion of the record $1.6 billion jackpot. Officials say those tickets were also sold in California, Tennessee and Florida.
The numbers drawn for Wednesday's Powerball jackpot were 8, 27, 34, 4, 19 and Powerball: 10.
Powerball tickets are sold in 44 states, as well as the District of Columbia, the U.S. Virgin Islands and Puerto Rico.