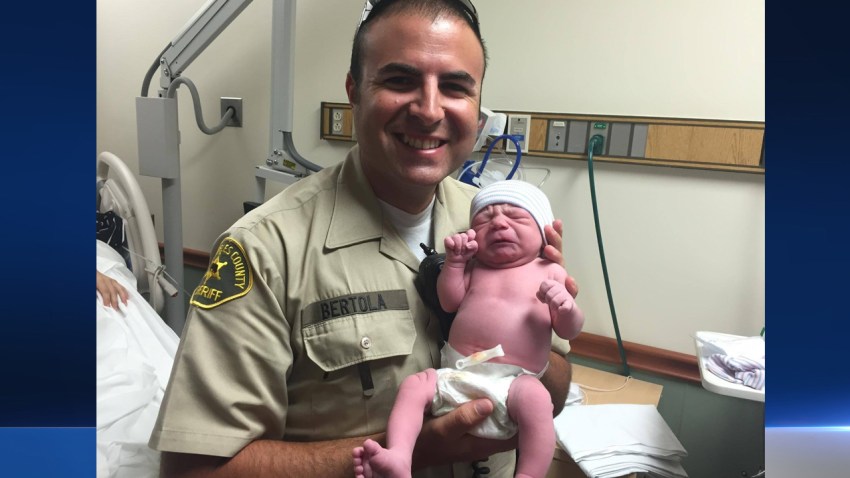 A sheriff's deputy radioed for paramedics after stopping to help a pregnant woman who went into labor inside a car. But when he saw the baby girl wasn't waiting, he had no choice but to deliver her on his own.
Deputy Roger Bertola pulled into a Santa Clarita Valley car wash parking lot Wednesday morning after being flagged down on Soledad Canyon Road. the Los Angeles County Sheriff's Department said. He was told by the father-to-be that the distressed mother in the front seat was "having her baby now."
Bertola called firefighters and assured the couple that paramedics were on their way - but so was the baby.
The baby began to crown while still encased in her amniotic sac, sheriff's officials said. Bertola carefully guided the baby out as the mother pushed, and the sac broke.
The deputy patted the baby on her back and helped clear her airway. After taking a deep breath, the baby began to cry about 7:17 a.m., Bertola said.
"At first, I was trying to help the mother get comfortable but she made it very clear she didn't want me to recline the front seat, and I certainly wasn't about to debate anything with her," Bertola said in a news release.
Bertola, a father of three, said it was the first time he had delivered a baby.
"The parents were so excited and happy. The father was jumping up and down and overjoyed," he said.
The parents had no warning that the baby was coming because she was born "en-caul" - enclosed in the amniotic sac - which means the mother's water did not break.
An ambulance arrived shortly after the birth. The mother and baby were taken to the hospital, where they were in good condition.