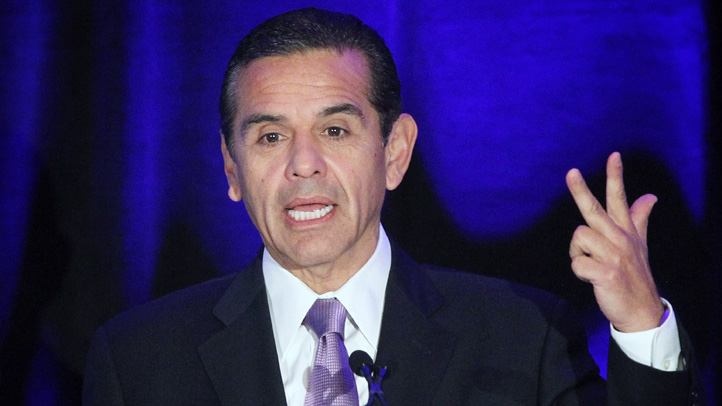 It's clear that L.A. Mayor Antonio Villaraigosa is working hard to build his legacy on successfully expanding public transportation in and around the City of Los Angeles.
He has just over a year to do it—before term limits usher him out of the Mayor's Office.
It is also clear that cementing his legacy as L.A.'s "transportation mayor" hinges on finding the money to implement his vision. And finding it fast. Villaraigosa knows it. As the prospect of federal funding grows ever dimmer, the Mayor has turned to Plan B.
With laser-like focus (or, some would say, unyielding tunnel vision—given the financial straits Los Angeles is facing), he's pushing a proposal for the November ballot, to extend Measure R, approved by voters in 2008.
That could set up a conflict between the Mayor and fellow Democrat, Gov. Jerry Brown.
Measure R established a half-cent sales tax increase to fund public transit, roads and transportation improvements through 2039.
Villaraigosa wants to continue the tax indefinitely, enabling officials to accelerate funding for projects such as a Westside subway extension and Metrorail to LAX, by issuing bonds against future revenue.
It makes sense politically for Villaraigosa to push for a November vote. Polls indicate that the Presidential general election, with its higher Democratic turnout, would likely deliver an electorate more amenable to the Mayor's proposal.
His measure, which would require a 2/3 vote to pass, could benefit from an Obama campaign GOTV operation targeted to bring out Democratic constituencies that largely dominate LA politics.
But there are downsides to that timetable, too.
There are lots of hurdles that have to be cleared before Villaraigosa's proposal can reach the ballot. It needs the approval of L.A. County's Board of Supervisors and the Metropolitan TransitAuthority.
The legislature needs to pass a bill to give the MTA Board of Directors and L.A. Countythe authority to put a Measure R extension before county voters. That bill then requires the Governor's signature.
Villaraigosa, a former Assembly Speaker, could likely navigate the bill's passage through the legislature in time to meet ballot deadlines.
Brown, however, is aiming to put his own tax plan before the state's voters in November and has been working hard to clear the field; he's worried that too many tax plans on the ballot would overwhelm voters and bring all the proposals down.
That's not an idle concern. There are still several tax initiatives floating around—including the well-funded "Tax for Education and Early Childhood Programs" initiative, whose primary advocate, civil rights attorney Molly Munger, has already poured well over $3 million into the campaign.
In addition, last month the Los Angeles School Board voted to place a $298 per year parcel tax on the November ballot, to help cut the School District's $390-million budget deficit.
Might the Governor balk at loading the ballot up with another competing tax plan and deny Villaraigosa his authorizing legislation?
Critics grimace at giving politicians what looks like a blank check to make spending commitments for generations to come.
But given previous election results and the voters' appetite for transportation improvements, odds are that the Mayor will prevail—if he's able to get the measure on November's ballot.\
It remains to be seen whether Mayor Villaraigosa's persistence in pushing his transportation goals will run headlong into Governor Brown's persistence in pursuing his budget goals.
Sherry Bebitch Jeffe is senior fellow at the USC Price School of Public Policy and the political analyst for NBC4.
Send us your thoughts via Twitter @PropZero or add your comment to our Facebook page.