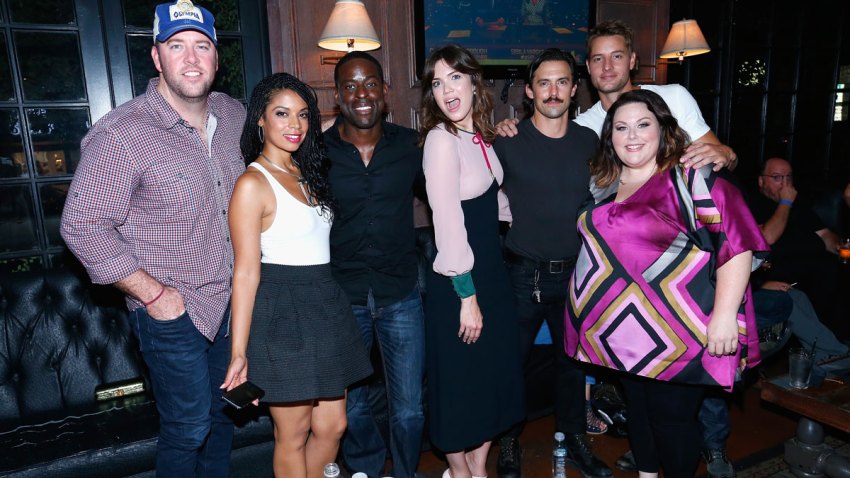 'This Is Us' story twists and turns keep on coming. Viewers got some insight into Randall's (Sterling K. Brown) backstory and the secret Rebecca (Mandy Moore) has kept from him his whole life. Spoilers begin now.
In "Kyle," viewers learned Rebecca had trouble bonding with Randall, who was originally named Kyle, after the loss of her biological child. She sought out Randall's biological father shortly after her kids were born and learned his backstory. He advised her to give Randall his own name and she picked one inspired by Dudley Randall, Randall's biological mother's favorite poet. And then she told William he was never to have contact with Randall. This was it. So you can imagine her surprise when in the present day she learned Randall found William (Ron Cephas Jones) and they came face-to-face again, more than 30 years later.
Milo Ventimiglia Dishes on Heartbreaking This Is Us Twists
"I try to have empathy for a woman in that situation who had lost a child and was trying to bond with this child that she and her husband had decided to adopt and bring into their family. I think she was making the best possible decision at the time she could for herself and for her family moving forward," Moore told Vulture. "Holding on to a secret like that, I can't imagine what she must have been going through and what William must have been going through."
Randall still doesn't know about the deal his mother made with William and Moore revealed scripts haven't addressed how the deal impacted both Rebecca and William yet, so she had to imagine for the present-day scenes.
"I had a child who asked me throughout his entire life, 'Are we sure we don't know anything about my parents? You know nothing about where I come from? There's no way we can find out?' I had to imagine this was something that was asked of us and asked of me so many times throughout Randall's life. So to be able to still hold on to that secret and not tell a soul is really heavy and it really weighs on her," Moore said.
"To come face-to-face with him 35, 36 years later--perhaps they've seen each other another time or two during the course of Randall's life--I can't imagine the guilt and the fear that she must feel because Randall's the child that she's closest to and the idea that anything could potentially hurt that relationship is devastating to her."
We Ranked All the New 2016 Fall TV Shows: What's No. 1?
In the third episode of the season viewers saw more of Rebecca and Miguel (Jon Huertas), the man who is clearly not Milo Ventimiglia's Jack.
"I do know why Jack wasn't walking through that door," Ventimiglia told E! News' Sibley Scoles before the third episode aired. "Just wait! Just wait. This is old-fashioned television story. You gotta wait. Appointment TV!"
But Rebecca was still wearing that necklace Jack gave her...
"We're going to see a couple in their high moments and then also in their low moments," Ventimiglia told us. "So the fact that it's present day and Jack is not grandpa, that's looking in the distance and being like, oh, I see where I'm going but I can't quite see the road around the mountain. You're going to find out, you're going to learn about it."
"This Is Us" airs Tuesdays, 9 p.m. on NBC.
(E! and NBC are both part of the NBCUniversal family.)
Copyright E! Online