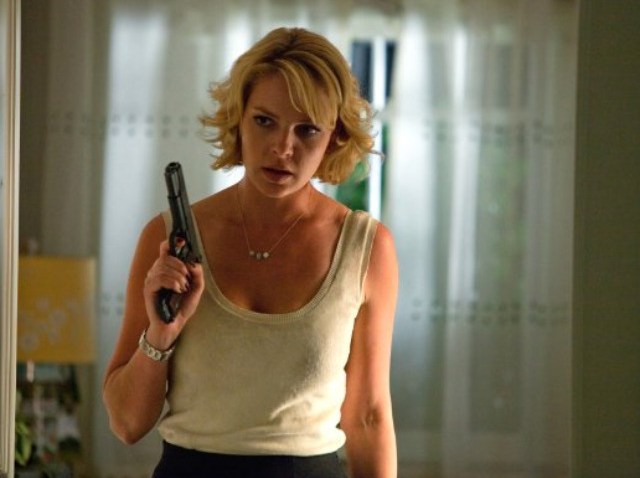 Katherine Heigl might be seen clumsily toting dangerous handguns in "Killers," but fret not -- the reigning queen of romantic comedies will not stray too far from her audience's comfort zone.

She's not going all Meg Ryan/Gulf warrior in "Courage Under Fire."

"Killers," which opens Friday, is all about a klutzy wife who finds her seemingly-perfect hubby (Ashton Kutcher) is an assassin. And then they find their perfect suburban neighborhood is nothing more than fellow-killers out to kill them. Heigl uses firearms in the picture, but it's strictly for laughs.

"This is a slightly different take on the (romantic comedy) formula," Heigl said at the film's press day. "But I love the formula and will continue to work in it hopefully until I am too old to do romantic comedies."

"But what I liked about this romantic comedy is that it had a lot of action," she said. "This had the energy to make it unique."

Further, she got to earn the goofy laughs while a buff Ashton was uncharacteristically serious. "I loved being the broad character to Ashton's straight guy," she says.

Heigl will be back to traditional form in "Life As We Know It" with Josh Duhamel (a film which Heigl executive produced). The duo play adults whose worlds are turned upside down when their mutual best friends die in an accident and they are named caregivers for their orphaned children. Sounds like the kind of formula that Heigl has excelled in the past.

The film is due out in the fall.