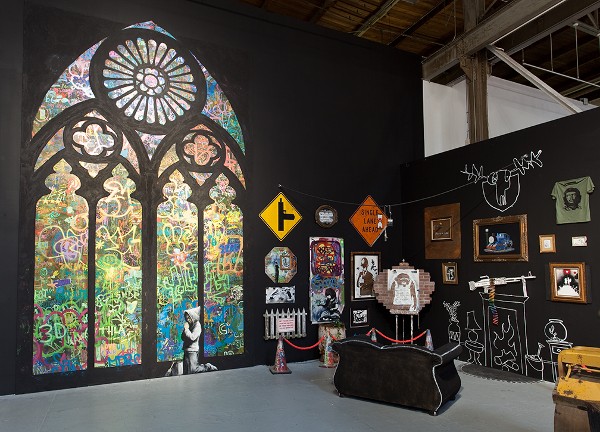 Usually the way it goes between an artist and a cultural institution is that the artist or someone who owns the artist's work lends the museum some work for a set period of time. The work is put up on the walls, then there is a party, with little cheese cubes on toothpicks, and maybe some white wine. Then people enjoy the art, until the exhibit is over, and the art comes down.
Step A, step B, step C, and so on.
Then there's Banksy, and the Art in the Streets show at the Geffen Contemporary at MOCA, which is featuring work by the phenomenally famous, phenomenally mysterious artist. No shocker that Banksy and MOCA are changing things up in the artist-museum relationship. And now that we look at both person and place, we should have guessed that the whole little-cheese-cubes-on-toothpicks route would be scotched.
In its stead? Banksy is backing free Monday admission to the Geffen Contemporary through the run of the exhibit (that last Monday is on Aug. 8). Can you think of other instances where the artist steps up to pay the viewer's ticket price? Surely it happens, but not often, and not in such grand, Banksyan fashion.
If you can't make a Monday, the Geffen Contemporary is always free on Thursday nights between 5 and 8 p.m.
And we're not knocking cheese cubes on toothpicks, which certainly have their tasty place. As do big artists making big gestures for a thankful public.
The free Mondays program opened on Monday, June 13.
Copyright FREEL - NBC Local Media