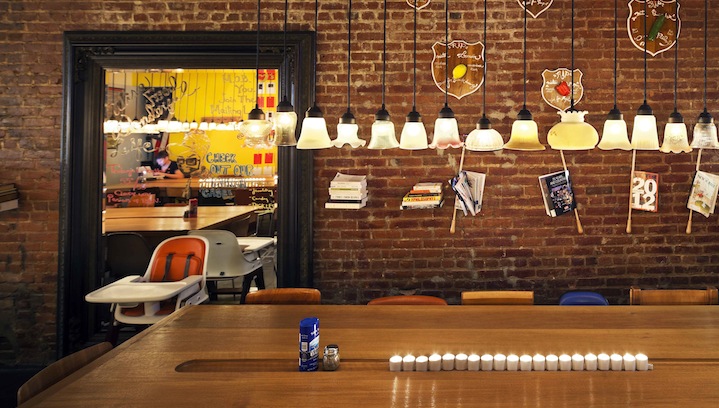 Maimonide of Brooklyn, a new vegetarian and vegan-friendly restaurant with a menu affectionately tagged as as "avant-garde vegetarian food for carnivores" has arrived on the Brooklyn dining scene. Founder Cyril Aouizerate, legendary French chef Alain Senderens and executive chef Neal Harden (Pure Food & Wine) hosted the opening celebration just last month, with guests ranging from comedian Louis CK to legendary musician Afrika Bambaataa, who also guest DJ'd. Makes us feel clean and good just thinking about this place!

The intriguing culture mash-up is in M.O.B's design, an homage to 90s hip-hop culture, Brooklyn, and the healthy-living beliefs of the famous Jewish philosopher Maimonides. The arches of the Brooklyn Bridge lend their shape to the M.O.B sandwiches as well as the physical design of the space, and there are displays that nods to BK legends including Biggie Smalls and Spike Lee.

Most charmingly, there is a Maimonide comic book, featuring superhero Barack Tomahawk, all of which is a driver in the larger creative direction of the restaurant. The ideas behind the M.O.B sandwich and the inclusion of Maimonides is explained through the story of Barack, a former fast-food delivery man, who realizes the error of his ways and heads off to save the world, one healthy meal at a time.

What a fun, unique and delicious way to get a life lesson and eat good grub at the same time--located at 525 Atlantic Avenue, get to M.O.B now!

Copyright LXTVN - LXTV