Dozens of volunteers from minority communities across the city spent hours calling registered voters in San Diego Thursday, hoping to get them to get out and vote in the historic election.
"Would I be able to inform you about Measure K on your local ballot?" asked one volunteer, working with Alliance San Diego.
The local non-partisan group, based in North Park, said they are pushing to inform voters about what is at stake during this election.
"The upcoming election is not just about who's going to be president in Washington D.C.," said one volunteer. "It's also about who our local leaders should be, and the decisions we should make on local issues that affect our neighborhoods."
The organization's mission is to explain to voters how important it is to get out and vote this coming Tuesday on Election Day.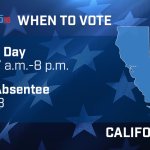 Their goal is to reach about 30,000 people in the city that still might have questions about some of the local measures.
Jesus Mendez, an undocumented resident, works with Alliance SD. Mendez just graduated from San Diego State University (SDSU) this past May. He is able to legally be in the country and work because of the Deferred Action for Childhood Arrivals (DACA) program. It grants him a two year residency where he can work and go to school in the states.
He explained why he chose to volunteer.
"It's difficult to build relationships, it's difficult to reach out to one another, across our differences, it's easy to stay comfortable," said Mendez.
"It's easy for people to say, 'Oh you know, I'm not undocumented so that's not really my issue, I'm not black, that's not really my issue, I'm not X I'm not Y,'" he said.
Mendez explained that the message the group wants to get out to viewers is that the election is not just about electing the next president.
Many of the local measures and state propositions would drastically affect communities of color, he said.
If you'd like to vote early, click here to learn how.