Thousands of superhero-clad racers ran in San Diego's inaugural DC Wonder Woman Run Series in Mission Valley Sunday.
The 5K and 10K races are meant to empower runners of all backgrounds to channel their inner superheroes.
About 3,500 people came out, some running enthusiasts, others to have fun in their superhero gear.
The course goes through Mission Valley, including Friars Road and Camino del Rio along the San Diego River.
Lynda Carter, known for her portrayal of Wonder Woman in the 70s, virtually started the race via video.
Alberto Valenzuela and Jaime Wooten were the first to finish the 5K race in their divisions, according to the run series' website. They ran the 3-mile-plus track in a little over 20 minutes.
The shorter race saw about 2,200 runners with an average time of about 47 minutes.
Mark Knutson and Susan Brooker came out on top for the 10K, finishing just over 40 minutes.
The longer race saw about 680 runners with an average time of about one hour and 16 minutes.
All racers received a special Wonder Woman Run Series medal.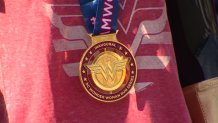 Other inaugural races popped up throughout the state, including ones in L.A., Oakland, San Jose, and Sacramento.
Virtual runs of the Sunday race are available on the Wonder Woman Run Series' website.