A winter storm expected to pack a punch with rain, wind and even snow touched down in San Diego County on Tuesday and it's expected to deliver that wet weather through Wednesday.
While the region can expect to be drenched with rain, mountain communities are bracing for measurable snow and desert areas are facing gusty conditions. Several warnings and an advisory are in effect for parts of the region due to the incoming storm.
Coastal communities are under a wind advisory through 12 a.m. Wednesday, deserts face gusts up to 70 mph and are under a high wind warning through 9 p.m. Tuesday and mountain regions are under a winter storm warning until 6 p.m. Wednesday for overnight snow. NBC 7 Meteorologist Sheena Parveen said Tuesday night through Wednesday morning will have the most active weather.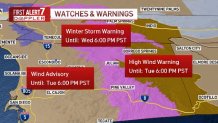 "The storm system is going to start to increase in intensity as we go through today," Parveen said. She added that the evening will bring the chance for thunderstorms.
As of 10 p.m. Tuesday, Brown Field led coastal areas in 24-hour rainfall with .48 inches, Otay Mountain Raws topped valley areas at 1.02 inches and Lake Cuyamaca led mountain zones with 1.68 inches, according to the NWS.
Meanwhile, mountain areas are bracing for measurable overnight snow.
"Tuesday night into Wednesday morning, that's when we're going to have the most mountain snow," Parveen said. "Some of it is going to be pretty heavy and snow levels are going to be dropping very low."
As of 10 p.m. Tuesday, Palomar Mountain measured about 4 inches of snow, but more was expected to fall at elevations as low as 2,000 feet.
Mountain areas could potentially get the following snowfall:
2,000 to 4,000 feet – 1 to 3 inches
4,000 to 6,000 feet – 3 to 6 inches
6,000+ feet – 6 to 10+ inches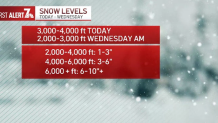 "You can expect travel is going to be very hazardous," Parveen warned. "Snow levels Tuesday night into Wednesday morning could be dropping to 2,000 feet. That is incredibly low. This is a very cold storm system."
The NWS said the same, reminding travelers in a tweet that conditions will get nasty at around 2,000 feet.
Guidance for Travelers
The California Highway Patrol issued guidance specifically for those who are traveling to the Mount Laguna/Julian area.
The agency said with treacherous conditions expected, tire chains will be mandatory. Only vehicles with chains will be allowed access to the area.
As of 9:30 p.m. Tuesday, chains were required on all vehicles, except vehicles with snow tires, in the following areas:
Sunrise Highway from I-8 to SR-79 on Mount Laguna
SR-79/SR-78 from Santa Ysabel through Downtown Julian
SR-79 from SR-78 to I-8 between Julian, Mount Laguna and Descanso
S. Grade Road on Palomar Mountain
E. Grade Road on Palomar Mountain
To ensure driver's safety, a checkpoint will be held at Sunrise Highway. There, CHP officers will check if passing vehicles have snow chains. An additional checkpoint may take place at SR-79 from Descanso to Julian, depending on the weather.
"Snow and rain increase hazardous driving conditions," the agency said in a statement. "Please exercise additional care when driving on slippery or iced-over roadways."
In Encinitas, free sandbags were available for residents preparing for flooding. Sea Aire Mobile Home Park resident Rob Berg was the furthest thing from excited about the wet weather.
"I know it's going to happen," Berg said. Whenever it rains, Berg said his home and those of his neighbors get swamped and it takes as little as 20 minutes of hard rain to turn his mobile home along Vulcan Avenue into a "waterfront property."
The water pours in from three directions, said Berg, who installed a sump pump right outside his home for a small amount of relief.
On days when he knows a storm is coming, Berg moves his valuables to higher ground and checks the pump to make sure it's in working order. Once the rain starts falling, Berg said the pump clicks on and usually runs for about 24 hours.
"The depth out here can be a foot, maybe more," Berg said, adding passing cars create waves that sometimes make their way into his house.
"It's very irritating," he said. "I get a little more agitated each year."