A United States Marine veteran who lost both of his legs while serving in Afghanistan walked down the aisle Saturday to the love of his life during a beautiful wedding ceremony in Oceanside.
Vibrant spring flowers, lace table cloths and, of course, a gorgeous white gown, filled the Paradise Falls event venue in Oceanside, all for the wedding of veteran U.S. Marine Cpl. Chris Van Etten and his bride, Samantha Yovandich.
Their wedding story is one that involves tragedy, love and generosity.
The ceremony was a gift from Paradise Falls owners Al and Cathie Ransom. Once a year, the couple helps veterans by gifting weddings to wounded warriors through a program called "Vows for Vets."
This time, it was Van Etten's turn to tie the knot.
Wedding planners said the couple had some normal wedding day jitters Saturday but were excited to finally become husband and wife and show the world their unbreakable bond -- through thick and thin.
Van Etten is a double-amputee who lost both of his legs while serving in Afghanistan. On June 13, 2012, Van Etten was on patrol when he stepped on an improvised explosive device (IED).
"I remember thinking, 'Okay, I just stepped on a bomb, I should probably check myself to see if I'm okay.' I prepped myself to look down to see what had happened -- at the time it felt like my legs were still there -- you don't realize when you get hurt, then the pain starts happening," Van Etten recalled, sharing his story with NBC 7 earlier this week.
Shortly after that, military doctors told Van Etten that he had lost his legs, but that "he was stable now and was going to be okay."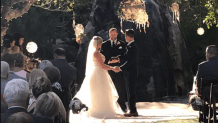 Like many veterans, Van Etten's injuries and war experience took him to a dark place. He remembers thinking he was not sure where his "new life" was going to take him.
"It's not only a physical blow to your body, but a mental blow to your self-esteem because you are now changed and you're not sure how the rest of the world is going to accept you," he said.
To help get out of his mental funk, Van Etten started working out and getting in great shape. The result was an underwear modeling job.
Four years after losing his legs, he was part of the Jockey brand's "Show 'Em What's Underneath" campaign, which focuses on sharing inspirational stories.
When Van Etten was working out, he also found the love of his life -- or, rather, she found him.
Van Etten said Yovandich saw him at a gym doing pull-ups with his prosthetics on, then she told a friend, "That's going to be my boyfriend someday."
She was right.
Soon, the couple began dating. About a year later they were engaged. On Saturday, they were married.
Thanks to the Ransoms generosity via their "Vows for Vets" program, the entire cost of the couple's $50,000 wedding was covered from the flowers and chairs, to the music, food and cake. Various vendors also donated items and services to make the Van Etten wedding possible.
Al Ransom is a retired Marine Colonel and told NBC 7 earlier this week that giving wounded warriors the weddings of their dreams is their favorite thing in life.
"There's nothing that makes us more proud than being able to do such a thing because we receive more than we give," Al said.
Al said the cause is close to his heart.
"For my 30 years in the Marines, my war was Vietnam and we weren't received well when we came home, so I didn't want that to happen to those I see now," he explained. "My wife and I are in a position to do something about it, so for the past six years now we've done one or more weddings for a wounded warrior."
Van Etten said he and his bride were originally planning a small wedding in a friend's backyard. Saturday's shindig far exceeded his expections.
"I don't think that just because you get injured that someone should take care of your wedding for you, but it's humbling to think that there are people out there that do think that," he said, speaking fondly of the Ransoms.
The Ransoms also own the Los Willows wedding venue. Between there and Paradise Falls, the couple puts on about 100 weddings a year, but these wounded warrior gifted weddings are the only ones the Ransoms personally attend, that makes Al emotional.
"It's not just Chris and Samantha, every one we've had in the past, I love them all," said Ransom, holding back tears.