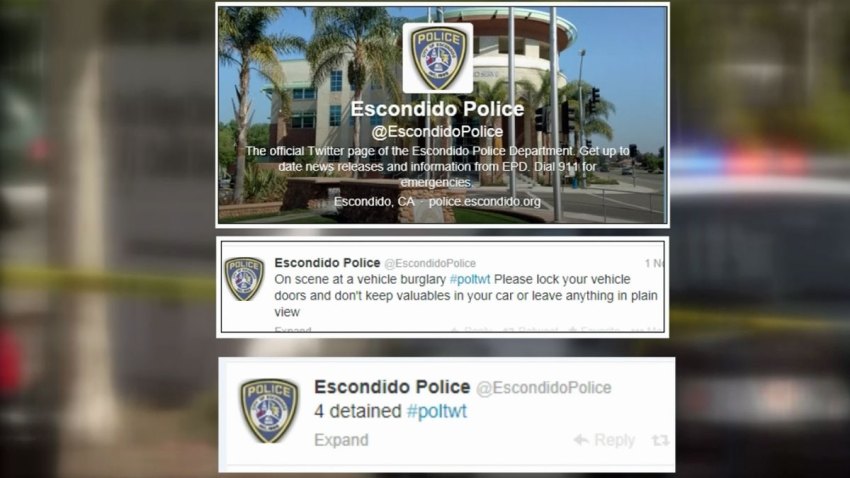 Social media is playing an increasingly important role in distributing updates during emergency situations like the recent shooting at LAX.
Now, one local law enforcement agency is using social media, specifically Twitter, to keep its residents safe here at home.
Escondido police call it a "virtual ride along" and if you follow the department's official Twitter account on your phone or computer, you may have noticed a wave of recent activity.

Updates like:
4 vehicle collision just came in. En route to assist #poltwt — Escondido Police (@EscondidoPolice) November 2, 2013
Or
En route to a disturbance involving an adult son who is trying to take his mother's vehicle. — Escondido Police (@EscondidoPolice) November 2, 2013

In one day, the department's official account sent more than 60 updates.
Social Media Manager Sgt. Jared Sinclair said the ride along aspect of the online push is unique to the department.
"When we can put out a tweet and have it reach thousands of people within a matter of seconds, it's very important when we're trying to control a scene, roads clear," Sinclair explained.
The department's administration says it's all part of preparing for a possible situation where the public's help is needed.
Sinclair said Facebook and Twitter updates have already helped keep folks safe during potentially dangerous situations.
"One day we used it up at the high school of someone with a gun. we used it to notify media and parents and students," he said.
Critics question the use of social media during fluid situations, asking if more information or even inaccurate information is helpful?
"Obviously that information has to be vetted before we will put it out on our channel, so I would encourage those following to follow the official channel for information," Sinclair said.
In a rapidly evolving situation, Escondido police said they wait to update social media – putting safety and the official investigation before the needs of their followers.
The department is considering another virtual ride along but will wait to consider feedback from the Nov. 1 experiment.