Two U.S. Navy sailors among the seven killed in last month's USS Fitzgerald collision will be laid to rest in their hometown of San Diego.
On Friday afternoon, funeral services were held at Miramar National Cemetery for Yeoman 3rd Class Shingo Alexander Douglass, 25. On Saturday morning, a funeral mass will be held at Corpus Christi Catholic Church for Chula Vista resident Fire Controlman 2nd Class Carlos Sibayan, 23.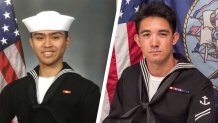 Both of the sailors' funerals are private, and NBC 7 will respect the wishes of the fallen sailors' families.
Douglass and Sibayan were among the Navy service members found dead last month aboard the U.S. Navy destroyer after it crashed with a merchant ship off the coast of Japan.
Last week, the remains of each sailor were returned home to their families in San Diego. Sibayan's body came home on June 28, Douglass' on June 30. In both cases, their remains were escorted by Patriot Guard Riders, a group dedicated to paying respects to fallen U.S. service members and their families.
Sibayan was less than a month from returning home when he died. He had served in the U.S. Navy for four years and had spent three of those years in Japan. His mother told NBC 7 her son was a hero and she was proud of him.
"If you never met my son, you missed a whole lot," she said. "In every sense of the word, he is my hero."
Douglass was born at the U.S. Naval Hospital on Okinawa and went back to Japan every year. He learned to speak Japanese fluently. His father, a decorated U.S. Marine, was proud to have his son report for duty aboard the USS Fitzgerald. He was described by loved ones as a caring brother, grandson, and friend who loved the U.S. Navy.